Bargain hunters have a tough job right now.
With the Dow Jones Industrial Average trading at a new all-time high, there aren't many "cheap" investments available today. But if you look hard enough, you still might be able to find a few items in the bargain bin. Here are some ideas for cheapskates...
Option premiums are cheap. While the S&P 500 is trading at its highest level since 2007, the Volatility Index ("VIX") is as low as it has been in six years...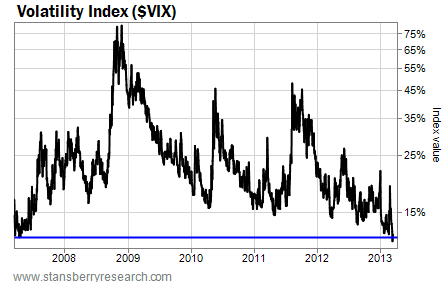 This is bad news for anyone who sells options to generate income. But it's good news for speculators, since it doesn't cost as much to place a bet right now. It's also good news for investors who like to buy put options to insure their stocks against a decline in value.
Given what happened to the stock market the last time the VIX was this low, a little insurance might be a smart idea right now.
Gold and platinum are both trading right around $1,600 per ounce. But take a look at this ratio chart that compares the historic relationship between the two metals...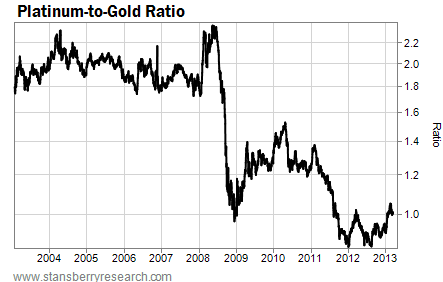 Platinum normally trades at a premium to gold. Following the financial market meltdown in 2008, platinum traded at an average premium to gold of about 25%. But prior to 2008, platinum routinely traded at two times the price of gold. Both metals look cheap today. But platinum is the better bargain.
Finally, agricultural commodities are cheap. The PowerShares DB Agriculture Fund (NYSE:
DBA
) is trading back down to where it bottomed last year – right before a nationwide drought caused a spike in agriculture prices...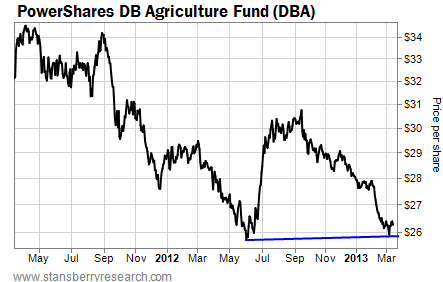 Commodity prices often bottom in the springtime and rally into the summer. If that happens again this year, a small investment in DBA might help offset higher prices at the grocery store.
Best regards and good trading,
Jeff Clark