When something is useful and cheap, the market finds ways to make use of it... eventually.
As regular readers know, the natural gas industry pioneered new techniques – like horizontal drilling and hydraulic fracturing ("fracking") – over the last 10 years.
These advances allowed companies to produce natural gas from shale formations. Shales hold vast reserves of the stuff. And conventional, vertical drilling can't get it out.
But as
we've been telling you since 2010
, the natural gas industry was the victim of its own success. The glut of supply led to a four-year bear market in natural gas prices... The share prices of producers plummeted.
But all that's changing...
In 2007,
shale fields
produced nearly 2 billion cubic feet per day. By the end of last year, production soared to over 8.5 billion cubic feet per day. That's a 325% jump in just five years.
Shale gas went from just 8% of U.S. natural gas production in 2007 to over 30% today... Total natural gas production rose 20% over the same time. And consumers just couldn't keep up.
In 2012, the average natural gas price hit $2.66 per thousand cubic feet (mcf). That was its lowest level since 1999. But that may have been the ultimate bottom...
On February 12, the U.S. Energy Information Administration (EIA) released its natural gas price estimates for 2013 and 2014 (in gray). As you can see in the chart below, prices should climb...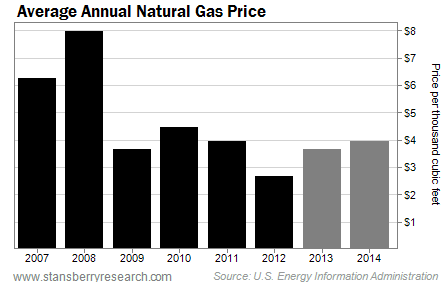 The EIA has the world's best database of U.S. energy supply and demand. And it doesn't think supply will change much over the next couple years. But it does believe we'll see massive increases in demand.
Natural gas is a very useful fuel. In terms of energy, six mcf of gas is roughly equal to one barrel of oil. Yet in 2012, six mcf of natural gas sold at an 82% discount to a barrel of oil.
In other words, you got $1 of energy for $0.18. And cheap energy is its own marketing tool.
According to the EIA, electric power plants were the first movers. In 2011, they consumed 20.8 billion cubic feet per day of natural gas. But when the price of natural gas fell in 2012, the power producers used 25 billion cubic feet per day. That's an incredible 20% increase in a year. Power plants are now consuming 36% of the country's total natural gas production.
And other industries are catching up now.
The EIA forecasts that industrial demand will rise from 18.9 billion cubic feet in 2011 to 19.6 billion cubic feet in 2014. And residential use should rise from 11.3 billion cubic feet in 2012 to 13.1 billion cubic feet by 2014.
Other industries are planning huge, long-term investments in natural gas use. The largest was a recent announcement by South African chemical company Sasol.
Sasol plans to invest $21 billion (roughly equal to 66% of its current market value) in three projects in Louisiana. The new plants will take natural gas and convert it to diesel fuel, waxes, and oils. The plants will come online between 2017 and 2021.
These giant projects will use around 3.2 billion cubic feet per day.
That's a high-profile example of a trend taking place all over the U.S. Cheap energy is attracting investment in natural gas consumption. And that should buoy the price of natural gas.
Investors looking for a contrarian investment in natural resources need look no further than the beaten-down natural gas producers.
Good investing,
Matt Badiali