Of the 1,000 or so charts I looked at this past weekend, three stood out...
The first one that stood out was the S&P 500 Index plotted against its Bollinger Bands.
Bollinger Bands measure the most likely trading range for a stock or index, given the most probable level of volatility. When an index trades above its upper Bollinger Band, it's in an extremely overbought situation and is vulnerable to a reversal lower...
The red circles on the chart show the five times in the past year when the S&P 500 closed above its upper Bollinger Band. In all four previous occasions, the S&P 500 fell back down toward its lower Bollinger Band over the next month. A similar move this time around could lead to a drop of around 40-60 points in the S&P 500 – if only to relieve the extreme overbought condition.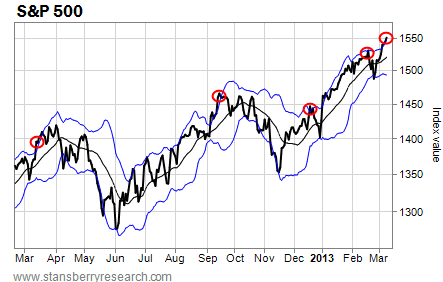 Traders should also keep an eye on the following chart, which compares the action in gold (NYSE:
GLD
) to the action in gold stocks (NYSE:
GDX
)...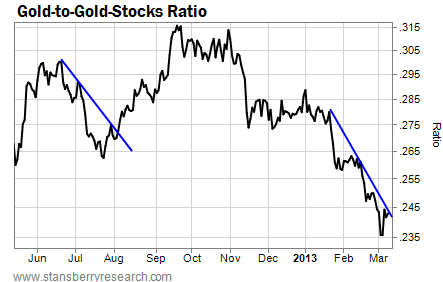 The distinct downtrend lines (in blue) illustrate how poorly gold stocks have performed relative to the precious metal. But when this chart broke above the downtrend line last August, gold stocks rallied 25% in six weeks.
This chart is once again on the verge of an upside breakout. If gold stocks can show some strength this week, it may signal the start of an intermediate-term uptrend.
Finally, look at this chart of the U.S. dollar plotted along with its 14-day relative strength index (RSI)...
The RSI is a momentum indicator that measures overbought and oversold conditions. Buy signals – which are marked by the blue arrows on the following chart – occur when the RSI drops below the 30% line and then starts to rally. Sell signals happen when the RSI rallies above 70% and then turns around and starts falling. It looks like Friday's action in the dollar triggered a sell signal...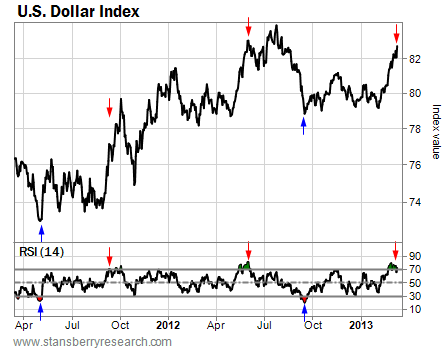 Precious metals and other commodities tend to respond well to a falling dollar. So if the dollar continues lower this week, that increases the odds of at least a short-term rally in the commodities markets.
Best regards and good trading,
Jeff Clark