After taking a short break, the biotech boom is back on...
Regular readers know we see biotech as one of the great "boom and bust" sectors of the stock market. With its promise of individualized medicine, cancer cures, and miracle drugs, few sectors capture imaginations and speculative money as well as biotech.
From October 2011 to October 2012, biotech stocks steadily gained... but received little mainstream press. The Nasdaq Biotech Index (the NBI) climbed 50% in just a year. We alerted you to this "
stealth bull market
" several times.
However, like all bull markets, the biotech bull market needed a break. Every big trend needs healthy, natural corrections to shake off latecomers and restore balance.
A post-election market selloff restored that balance. The NBI fell from 1,533 to 1,339 in just weeks. But by late November, the index had dug in a "toehold" in the 1,350 area.
This marked the lowest point sellers could push the biotech sector during the selloff. It also marked a solid buy point for traders who want to profit from the uptrend in biotech. As you can see in the chart below, the sector has since soared to a new high. The NBI is up double digits since my alert.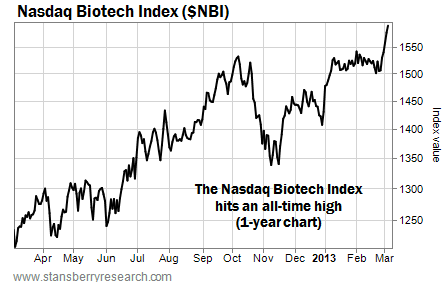 The double-leveraged fund I mentioned in November is now up more than 22%. Many individual names in the sector are up 30% or more. Even big-cap bellwether Gilead is up 19%.
But no stock or sector moves higher in a straight line. If you're not in the biotech trade, now is not the time to open a new position. Biotech is "overstretched." After that kind of move, it's reasonable to expect a pause before we see another jump higher.
If you are already in the trade, consider tightening your stops. But don't sell yet. When speculative money flows hit the biotech sector, the gains can be extraordinary.
Good trading,
Brian Hunt