It's time for traders to take caution... the "dirty secret of the investment advisory business" is flashing a warning sign.
This dirty secret helped traders make big, low-risk gains by going long stocks in June. And it's a timeless piece of wisdom that will always help lead you to great trading opportunities. The "dirty secret" is simple...
Most of the folks writing investment newsletters aren't particularly good at their jobs. And rather than listening to the average investment-newsletter "guru," you're better off taping the Wall Street Journal's stock table to the wall, throwing darts at it, and buying the stocks you hit...
There's a good reason why this is the case. It's the same reason most baseball players don't make the All-Star team. It's the same reason most new businesses fail. It's because most people in ANY professional field are average or below average at their jobs. That's just how the world works.
Armed with this knowledge, we urged readers of DailyWealth Trader to "go long" stocks in June. Investment newsletter writers were at extreme levels of bearishness... which made us bullish.
Our call to go long was well-timed. The benchmark S&P 500 Index bottomed in June... and staged a big 10% rally into September. Newsletter writers in general also became bearish in November. We urged readers to go long back then as well. The S&P 500 has rallied 11% off its November lows.
These days, investment-newsletter writers aren't super-bearish... they're getting super-bullish. The Hulbert Financial Digest is a service that tracks the investment newsletter industry. According to its newsletter sentiment index, newsletter writers are reaching extreme levels of optimism.
Newsletter writers are as susceptible to mindless crowd-following instincts as the next guy. So the recent 8% surge in stocks has the group as bullish as it has been only a handful of times over the past four years. Each time similar levels were reached, stocks suffered sharp corrections (like in early 2010, mid-2011, and mid-2012).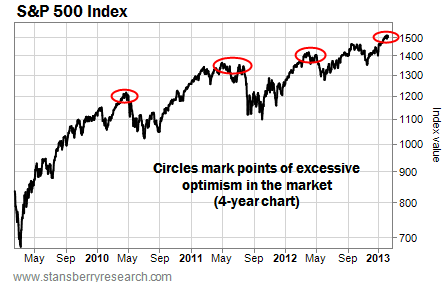 Keep in mind... Readings of excessive optimism aren't a "slam dunk" indicator that mean stocks will plummet tomorrow. Periods of excessive optimism and rising stock prices can turn into long periods of excessive optimism and rising stock prices. But these readings are always concerning to contrarian traders.
For us, they are warning signs that say we should trade cautiously. This means tightening trailing stops... and making sure any new long positions are in assets that have not enjoyed huge rallies and are thus, vulnerable to a sharp market decline. Also remember that these readings are more of a short-term trading concern than a longer-term investment concern.
In summary, it was a good idea to go long stocks back in June and November. These were periods of pessimism. Stocks rallied hard both times. But right now, we have a far different story. We've entered a period of high optimism. Even measures of individual investor sentiment (like the American Association of Individual Investors poll) are showing high levels of optimism.
Regards,
Brian Hunt
Further Reading:
One of the best places for contrarians to put their money right now is natural resources...
"This isn't a 'sleep at night' trade," Amber and Brian warn. "The industry may get more hated before the cycle turns... But if it can simply return to its 2012 highs, you'll have a 40% gain. A return to 2011 highs would be a double."
"Despite improving data out of the country, investors are still terrified of a China slowdown," resource guru Matt Badiali says. "That's why contrarian investors should look here to make money in 2013."