There are times to be bullish, and there are times to be cautious (or even bearish).
And just about nobody ever gets them right.
For example, in early 2009, after the market plunged more than 50% from its 2007 highs, nobody was bullish – even though it was the perfect moment to buy.
And if investors knew that they should become more bullish as stock prices fell and less bullish as they rose, we could have avoided a situation like we faced in 2009, when the S&P 500 traded for 13 times earnings.
The stock market went up almost 20% in 2009. It's gone up every year since, including last year's 13% rise. So folks now are bullish, with
the American Association of Individual Investors Sentiment Survey
showing 52% of respondents bullish on stocks for the next six months. Historically, anything above 50% is getting into extreme territory. Less than 19% were bullish the week ending March 5, 2009, the day before the S&P 500 officially bottomed.
The mistake is obvious. The herd thinks whatever just happened will happen again soon. It's called "recency bias." It assumes the most recent data is the most important data. In the stock market, recency bias is closely aligned with availability bias. That's when you think the most readily available data is the most important data.
Price quotes are the most readily available data about public companies. So putting our two biases together, the most recent price-quote history is irresistible to the vast, thundering herd of investors.
And now, after four years of stock market gains, all anyone can see in the rearview mirror is a rising market... so that's the overwhelmingly popular expectation.
Everyone wants to buy. Everyone wants to take more risk. "Junk" bond yields dipped below 6% for the first time in history this month. (Earlier this week, Steve Sjuggerud – one of the best contrarians I know – told
DailyWealth
readers that
it's time to sell junk bonds
.)
I'm not delusional enough to try to call a top in the market. To believe that is to remain under the spell of recent price quotes. I'm just saying if all you know is price quotes – and that's all most investors know – you're going to lose money... and from the looks of things today, it looks like folks are lined up around the block to lose money in stocks once again.
One of the biggest trends in the market today is the decimation of brick-and-mortar retailers by e-commerce.
Arguably the most visible bankruptcy resulting from this trend is book retailer Borders. Electronics retailer Circuit City also shuttered in large part due to Internet competition. Circuit City's main rival, Best Buy, is also hemorrhaging sales and clients... And the company's founder is considering taking the company private.
If you had to pick one company that's done the most to hasten the demise of brick-and-mortar retailers... it would be the world's largest online retailer, Amazon (NASDAQ:
AMZN
). Take a look at this chart of Amazon's sales versus the sales for the Morgan Stanley Retail Index (an index of 31 national retailers).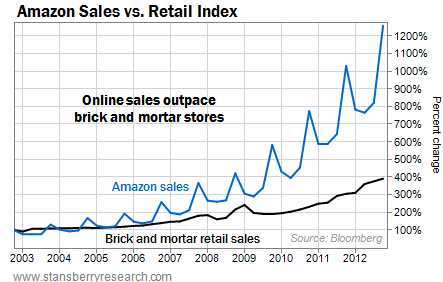 Clothing retailer J.C. Penney (NYSE:
JCP
) is also faltering. Hedge-fund billionaire Bill Ackman owns around 20% of the company. And he hired former Apple retail head Ron Johnson as the new CEO to try to lead a turnaround.
But despite Ackman and Johnson's efforts... JCP reported consecutive sales declines of more than 20%. Customer traffic also dropped double digits. Among the main culprits... Internet competition.
Now... compare that with the latest numbers from Amazon.
Last week, Amazon announced that fourth-quarter sales jumped 22% to $21.3 billion. Net income fell to $97 million, from $177 million a year earlier. However, operating income increased 56% to $405 million... That day, shares rose as high as 12% on the news before closing the day up 6%.
Earnings were down because Amazon is funneling cash into new warehouses with the goal of drawing customers away from malls with faster delivery and huge inventory. Last year, Amazon added 20 "shipment hubs." And the biggest reason shares soared was because the additional hubs are helping Amazon's margins (shipping costs dropped to 4.5% of sales, compared with 5.4% a year earlier).
Amazon's gross margin widened to 24.1% from 20.7% a year ago. Margins were also helped by an increase in sales from third parties, which made up 39% of units purchased in the fourth quarter, up from 36% a year ago. These sales improve margins because the commission Amazon takes from these sales is 100% profit.
So JCP is losing customers and sales. Meanwhile, the company is spending loads of cash to improve store interiors. That's the wrong approach... JCP should be focused on improving e-commerce. That's what Amazon is doing...
If you've bought a sandwich from fast-food chain Subway recently, you may want to check your credit report...
Tech magazine Wired reports that Romanian hackers breached Subway's point-of-sale system – the scanners it uses to record credit-card transactions. More than 80,000 Subway customers have had their credit-card information stolen. The hackers used this data to conduct several million dollars' worth of unauthorized transactions.
The victims may have to sort out the fraud in a painful process with their credit-card companies. In the meantime, their credit scores might go down, which could lead to banks offering them less favorable interest rates.
The crime ring also hacked into 50 other unnamed retailers that use the same point-of-sale system. They did so by exploiting a simple trick that has given criminals access to everything from celebrity e-mail accounts to behemoth tech companies, like Apple. If you haven't begun to recognize the serious threats to your privacy yet, you should... before your next footlong ends up costing you much more than $5.
Retirement Millionaire
editor Dr. David Eifrig just released a special report that highlights your risks to privacy – and shows you how to fix them. One of the simple techniques Doc describes provides security from a hacker making unauthorized charges to your account...
even if he gains access to your credit-card number.
You can learn why readers have praised Doc's groundbreaking privacy work as "worth the cost of many years' subscriptions" by
clicking here
.
Regards,
S&A Research