Gold stocks got smacked hard again last week.
The sector – as measured by the Market Vectors Gold Miners Fund (GDX) – lost 7%, while the S&P 500 closed at its highest level in five years.
Previously, it looked like the mining sector was forming a bottom, and it was on the verge of breaking out to the upside. Instead, it went the other way...
Gold stocks broke down hard, and they're now in the process of testing last summer's abysmal low prices. Take a look...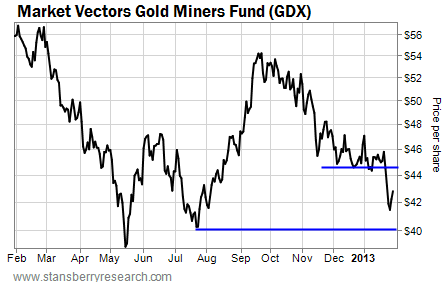 This is horrible price action, and it's testing the resilience of even the most ardent gold bugs. But the good news is that when the sector finally bottoms, it'll set up plenty of trades to profit off an intermediate-term bounce – similar to what we saw in 2012, from July to October.
Gold stocks are cheap relative to gold... They're cheap relative to the S&P 500... And they're cheap on an absolute value basis. Sentiment toward the sector is as depressed as ever. And last week's action sent the gold stock bullish percent index (the BPGDM) deep into oversold territory. When the index turns up from here, it'll generate one heck of a buy signal.
Bullish percent indexes (BPIs) are momentum-based indicators that indicate the percentage of stocks in a sector trading with bullish technical patterns. BPIs can range between zero and 100, and are generally considered overbought above 80 and oversold below 30.
Buy and sell signals from bullish percent indexes are subject to interpretation, and I use different parameters for different sectors. For gold stocks, the BPGDM generates a sell signal when the index rallies above 80 and then turns lower. Buy signals occur when the BPGDM drops below 30 and then turns higher.
I'm simplifying the rules a bit here. I typically like to see a few other technical indicators line up on the same side as the BPGDM before I act on a "buy" or "sell" signal... But you get my point.
Here's how the BPGDM looks right now...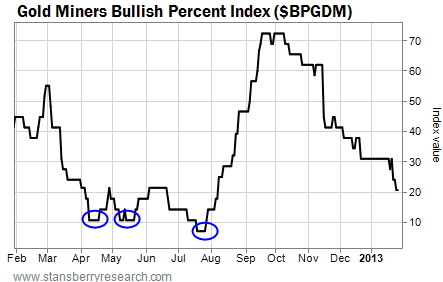 The blue circles show the "buy" signals that triggered last year. They didn't guarantee immediate profits. The signals in April and May ran out of gas before they could gain much traction. But the buy signal in July more than made up for the earlier false alarms.
My point is that BPGDM buy signals don't always mark the absolute low for the mining sector... They occur at times where traders can put on relatively low-risk trades in gold stocks.
At less than 21, BPGDM is in oversold territory. A solid move higher will generate a buy signal for gold stocks... and give us a low-risk setup.
Best regards and good trading,
Jeff Clark