Oil companies are planning to spend boatloads of cash in 2013.
According to investment firm Barclays, oil exploration and production companies will spend a record $644 billion this year to find oil. That's enough cash to buy every Major League Baseball team 30 times over.
Thanks to this spending tailwind, oil services stocks now have the trend in their favor. These businesses do most of the heavy lifting when it comes to producing oil and natural gas. And investors who buy a select few of them today could make a lot of money...
As the chart below shows, oil services stocks have drastically underperformed the market over the past two years. But thanks to record spending from some of the world's largest oil companies, that's about to change...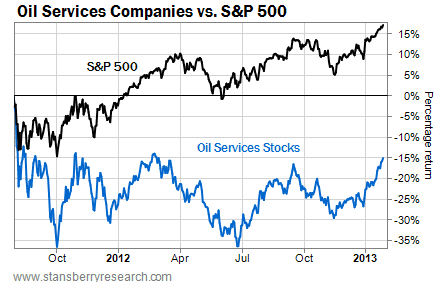 There's a reason why spending is surging in the energy industry. It's because most oil companies are having a tougher time finding oil. That may seem surprising given the huge surge in oil production we are seeing in America. However, the rest of the world is struggling to replace its reserves.
You can see this by looking at two measures:
The RRR is an important barometer used in the oil industry. It measures the amount of proven reserves added to a company's base relative to the amount of oil produced each year. A ratio above 100% means current production is growing. Below 100% means a company is having trouble replacing its reserves – and could eventually run out of oil.
ExxonMobil (NYSE:
XOM
) (the 14th-largest producer in the world) prides itself on keeping its RRR above 100%. In fact, the oil giant has kept it above that level for 19 straight years. But the largest oil producers in the world can't say the same.
During a 30-minute interview on S&A Investor Radio last week, Dr. Kent Moors told me the
10 largest oil producers
– including state-run oil giants Saudi Aramco, Gazprom, PetroChina, and Pemex –
only replaced 72% of their oil reserves annually over the past three years.
(Dr. Moors is an oil expert. He's been advising major oil companies and foreign governments on oil policy for over three decades.)
The second measure that shows the world is struggling to replace its reserves is where – specifically – the $644 billion will be spent this year. For example, in 2010 and 2011, U.S. capital-expense (cap-ex) spending exploded nearly 30% annually as new technologies opened up big opportunities in the Bakken and Eagle Ford shale regions.
In 2013, cap-ex spending in the U.S. is expected to top $183 billion, according to Barclays. However, that's only a 1% increase over last year. On the other hand, spending to find oil internationally is expected to jump nearly 10% from last year to $460 billion.
The biggest beneficiaries of this massive spending spree are oil services companies with international exposure.
The largest players include Schlumberger (NYSE: SLB), Halliburton (NYSE: HAL), Baker Hughes (NYSE: BHI), and Weatherford (NYSE: WFT). They receive more than 60% of their revenue outside the U.S., and their clients include most of the major oil and gas companies in the world.
These oil services plays are trading at cheap valuations considering the massive cap-ex spending expected to take place. Right now, the oil services fund OIH – which includes the four names I just listed – trades for 12 times earnings. That's a 20% discount to the S&P 500.
But thanks to the $644 billion spending tailwind, earnings for oil services stocks will grow at least twice as fast as the average S&P 500 company... 12%-plus versus 6%, respectively. And as I said, these stocks have significantly underperformed the market over the past two years.
With the
largest oil companies in the world
having trouble replacing their reserves, spending will likely continue hitting new records each passing year. This is a tailwind that will result in huge profit growth for these four international oil services stocks.
I suggest scaling into these names before it's too late.
Good investing,
Frank Curzio