The past few weeks have brought big news to a big trend we've been telling you a lot about recently...
Regular
Growth Stock Wire
readers are familiar with the giant shale gas boom in North America. New drilling technologies have allowed us to unlock vast amounts of domestic oil and gas... more than we can possibly use. We have so much natural gas that
selling it to markets in Europe and Asia
makes great economic sense.
These countries are willing to pay prices that are more than triple what gas sells for in the U.S. It's a market that could be worth hundreds of billions of dollars over the long term.
As Frank Curzio detailed a few weeks ago,
we don't have the infrastructure yet
to transport large quantities of North American gas to foreign markets. But that's changing... and there are huge investment opportunities in the businesses working to build out our natural gas shipping infrastructure.
As evidence, we present the past three years' trading in Chicago Bridge & Iron (NYSE:
CBI
). CBI is one of the "bellwether" stocks of the natural gas infrastructure trend. It's one of the world's largest builders of pipes, loading facilities, storage facilities, and all the other things needed to move oil and gas around the world.
The stock is a longtime recommendation in Stansberry's Investment Advisory. Porter Stansberry and his team believe the stock is one of the ultimate ways to invest in natural gas infrastructure.
As you can see from the chart below, Porter and his team are onto a big idea... Chicago Bridge & Iron is up 31% in just the past two months (his readers are up 44% in total). And just this week, the stock broke out to a major multi-year high.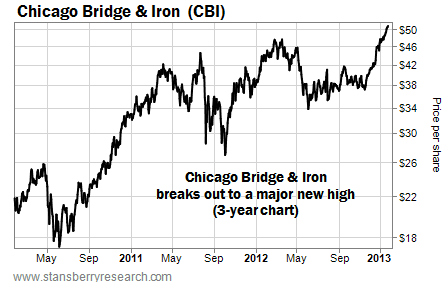 In our stable of trading advisories at S&A, we encourage readers to consider both the fundamentals and the technicals (aka "price action") of a trade.
In the case of the giant natural gas infrastructure boom, you have both in your favor. Companies like Chicago Bridge & Iron are enjoying a huge amount of new orders (called "backlog"). They're reporting rising cash flows. And as you can see, they have a heck of a "big trend" blowing in their favor.
It pays to be long natural gas infrastructure.
Regards,
Brian Hunt