We're at the start of what could be a tremendous move in a market few investors have ever thought about.
When you catch a trend like this early, you can make a tremendous amount of money in emerging markets. Take China, for example. If you'd put money there in the early 1990s, you'd have made it back 21 times over by now. (The S&P 500 would have returned about 2.5 times your money in the same time period.)
There's likely more money to be made in China as its economy continues to grow. But there's an "early stage" emerging market story that's much more interesting right now...
Emerging markets are "less developed" nations with huge growth potential. The International Monetary Fund (IMF) lists 24 countries as emerging economies. This list includes China, India, South Africa, and Brazil.
China finally opened its economy to foreign investments in 1978. In the 25 years before China's "economic liberalization" – its economy grew an average of 4% annually. When China eased trading restrictions and its government became more business friendly, its average annual economic growth from 1978 through 2012 was a huge 9.5%. That helped propel the market's extraordinary gains.
It's not an isolated story...
In the mid-1990s, Brazil's president Fernando Henrique Cardoso denationalized some of the largest state-run enterprises in the mining, telecommunications, and steel industries. He also created policies to control inflation.
The following president, Luiz Inacio Lula da Silva created infrastructure programs and encouraged private sector investments, which helped fuel jobs over the past 10 years. From 1993 to today, the Brazilian stock market has surged more than 8,000%.
On Wednesday, I spoke to Chris Mayer on my
S&A Investor Radio
podcast about an emerging economy that's so "new," it doesn't even make the IMF list.
Chris is the editor of the Capital & Crisis newsletter for Agora Financial. He spends most of his time traveling to developed and non-developed nations in search of the next big idea. He'll be presenting at the Value Investing Congress in May, one of the world's most prestigious investment conferences. I consider him one of the smartest analysts in the world when it comes to international investing.
In my 20-minute conversation with Chris, he talked about investing in places like Myanmar, the southeast Asian state that's emerging from dictatorship, and Dubai, a city-state in the United Arab Emirates.
But his favorite emerging market is Mongolia.
Chris says, "In 10 years, this small country will be the wealthiest place in the world on a per-capita basis." That's a bold claim. According to the IMF, Qatar has the top spot for per-capita income, at nearly $100,000. Mongolia comes in at 114th place, with just under $5,000 in income for each of its 3 million citizens. (The U.S. comes in 6th with just under $50,000.)
Mongolia borders Russia and China. And the country is filled with natural resources including oil, iron, lead, and copper.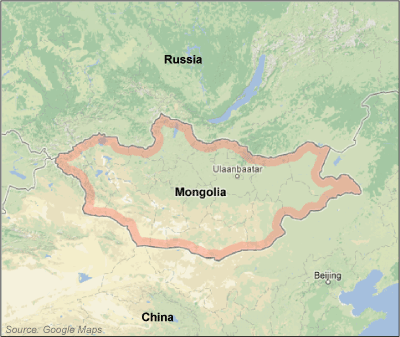 In fact, Mongolia is home to the Oyu Tolgoi mine which is estimated to have 79 billion pounds of copper and 45 million ounces of gold. This mine is expected to have a lifespan of 40 years.
In 2010, the signing of the Oyu Tolgoi contract – which allows foreign companies to help develop one of its biggest assets – was a major milestone in modern Mongolian history. The IMF ranks it as one of the fastest-growing economies over the past three years. With the help of foreign investment, Mongolia's GDP is expected to grow an average of 20% a year until 2020.
Resource giant Rio Tinto (NYSE:
RIO
) is one of the companies helping to develop Oyu Tolgoi. Turquoise Hill Resources (NYSE:
TRQ
) is another listed company that has a large stake in the Oyu Tolgoi mine.
Of course, with every high-growth investment, there is risk. In the past two months, the Mongolian government has been trying to amend an existing mining agreement so that the government will have a larger stake in the country's biggest projects.
The news has pushed many of Mongolia's mining companies lower. I would use the pullback as a buying opportunity. I can't see the government changing its stance on foreign investments after the huge growth the country has seen over the past three years.
I believe Chris is right. Mongolia could become the next emerging market that makes long-term investors wealthy.
Good investing,
Frank Curzio