Coffee prices are headed higher...
The bad news for coffee drinkers could be good news for traders.
Over the last two years, coffee prices are down 50%. But coffee appears to have bottomed last month and is now moving the other way.
And that's set up a couple interesting trading ideas...
Take a look at the chart below...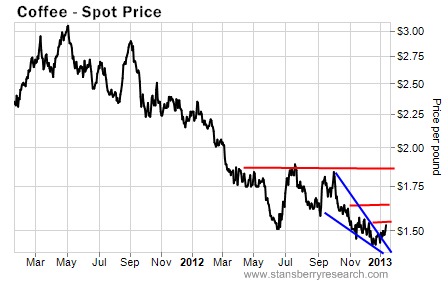 Coffee broke out to the upside of a bullish falling-wedge pattern (the blue lines on the chart above) two weeks ago. It fell back and re-tested the breakout level last week. Now it looks ready to run higher.
There's some minor resistance right here at $1.53 per pound, followed by more resistance at $1.65. But the most likely target for this intermediate-term move is $1.85.
That's nearly a 30% increase from last month's low. And it's likely to have a few implications.
First... consumers are going to pay more for their morning cup of coffee. It won't be so much more that it causes the masses to give up their daily caffeine jolt. But it may shift folks out of the premium coffee brands and into the more "budget" varieties.
It will also pressure the profit margins for companies like Starbucks (NASDAQ:
SBUX
). SBUX investors have enjoyed a terrific run over the past couple years. The stock is up almost 80% since early 2011. That run isn't exclusively the result of falling coffee prices... but higher coffee prices may still end in SBUX shares giving up some of those gains.
Traders looking to
profit on the rising trend in coffee prices
should take a look at the iPath Dow Jones – AIG Coffee Total Return Sub-Index ETN (NYSEARCA:
JO
). This exchange-traded note uses the futures market to track the performance of the price of coffee. As you can see from the following chart, it follows the price well...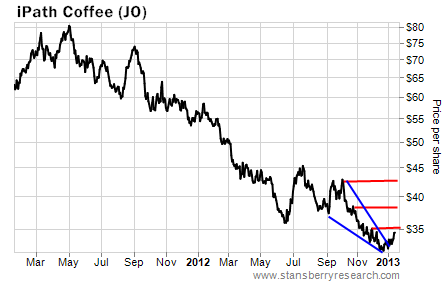 If coffee rallies as I expect it to, JO could make its way up to $43 per share. That's about 27% higher than where it closed yesterday. And it should be more than enough to help pay for your morning cup.
Best regards and good trading,
Jeff Clark
Further Reading:
Find more commodity trades from Jeff here...
The Fed will continue to print money like crazy, which will hurt the dollar and push up the price of gold.
If the price of natural gas bounces, as Jeff is predicting, this fund could be setting up for a solid short-sale opportunity...