The copper market has turned 180 degrees in under six months.
But China's manufacturers must have worked through the supply, because it just set a monthly import record in November. That's hugely bullish news for copper producers... and their shareholders.
Take a look at the chart below. In November, China imported more copper than ever before...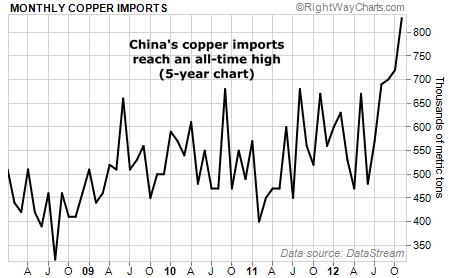 Since 2009, when the world economy slowed, China's copper imports have been stuck between 450,000 and 700,000 metric tons per month. But by last November, imports nearly doubled from the bottom of their range.
China's manufacturers' purchasing index (a measure of growth or contraction in that sector of China's economy) hit a 13-month high. And China's exports are once again rising. That should take care of China's copper surplus. So while September's rally in the copper price was premature, the recent rise, supported by data from China, looks like the real thing.
Copper already hit a new short-term high at the beginning of the year. This is solid news for copper-producing companies...
The base-metal mining sector has struggled since 2011. Large miners like Freeport-McMoRan (NYSE:
FCX
) are down more than 30% from their 2011 highs. Given these losses and global economic worries, there's plenty of pessimism toward the sector.
Despite improving data (including the
rebounding iron ore numbers
I showed you last week), investors are still terrified of a China slowdown.
That's why contrarian investors should look here to make money in 2013.
In my S&A Resource Report, we've already started...
Readers are up 35% on giant copper producer Southern Copper (NYSE:
SCCO
) over the last year.
We bought the trophy copper company because it has the world's largest volume of copper reserves. Based on current reserves and production rates, it could operate for 144 years without ever looking for new material.
My typical rule of thumb is to buy these companies at 10 times cash flow or lower. And the Bloomberg estimate for 2012 cash flow from operations is $3.4 billion. The company's market value is $33 billion... so its valuation is right in the sweet spot at 9.7 times cash from operations.
And the company returns a lot of that cash flow to shareholders. We collected $3.70 per share in dividends in just one year... almost a 12% yield.
Resource investors should consider the copper sector in 2013. Global central banks are running the printing presses... which is keeping the economy afloat. If China's demand for copper continues, we'll see solid gains from cheap copper miners.
Good investing,
Matt Badiali