Uranium stocks have been left for dead.
The struggling sector has been searching for a bottom since the Fukushima Daiichi disaster in early 2011... That's when a major earthquake and tsunami swept over eastern Japan, causing the nuclear plant to leak uranium.
Since then, some of the biggest European countries announced cuts to their nuclear programs. Japan took it one step further, saying it would completely phase out the use of nuclear energy over the next 25 years.
Even I figured that was the "
death of nuclear power
." But today, things have changed. And I'm hunting for the next big winners in the uranium sector.
After the Fukushima disaster, France – the second-largest consumer of nuclear energy – said it would cut its share of nuclear power for electricity generation by 33%. Germany – the fifth-largest consumer – said it would completely phase out nuclear energy within 10 years. Italy, Switzerland, and Belgium also shelved projects to build out nuclear power stations.
And then finally, Japan, the world's third-largest nuclear-energy consumer – accounting for more than 10% of the global market – abandoned nuclear.
Over the last two years, reduced demand and all the bad news drove uranium prices – and the
stocks of uranium producers
– lower and lower. Meanwhile, I've been hearing from energy analysts that "now is the time to buy."
But as you can see below, you would have gotten killed listening to the folks who were too early calling the bottom. This chart shows URA (NYSEARCA:
URA
), which holds a basket of uranium producers. The sector is down 65% since the Fukushima disaster.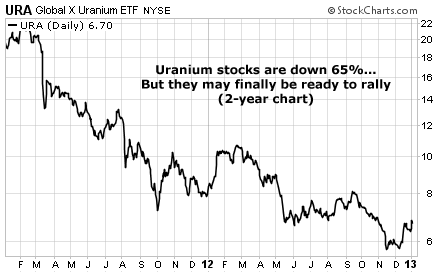 After its complete wipeout, I believe now is actually the time to buy.
You see, Japan is reconsidering its drastic anti-nuclear measures. In mid-December, a new political party was elected in Japan. Its new trade minister said it will likely reopen nuclear plants that pass stringent safety tests. He's also considering keeping plants open that are more than 40 years old.
I wouldn't be surprised to see other countries that swore off nuclear following Japan's lead.
Since the elections took place, URA has popped 20% off its lows. And I think this sector could finally be putting in a bottom. If Germany and France also ease their nuclear stance – this will create more catalysts for this depressed sector.
Cameco is the biggest uranium producer in the world and a good trade on a recovery for the sector. However, if uranium producers do rebound from these depressed levels, the biggest returns will come from the more speculative names.
You can find a list of small-cap uranium stocks
here
. (There are several companies on this list I plan to recommend over the next few months in my small-cap
Phase 1 Investor
and
Small Stock Specialist
newsletters.)
With better news and increased demand, investors could finally be set up for big returns on
uranium stocks
.
Good investing,
Frank Curzio