The folks on CNBC make it seem like we should all spend hours thinking about unemployment numbers and GDP estimates. They'll say you need to know where the economy is going.
But over the last two years and more, gold has once again proven that sometimes all you need to do to profit is "act dumb."
At the close of this year, gold will register an incredible 12 consecutive years of price gains. This is an extreme anomaly in the financial markets. No other widely traded asset has registered this many consecutive years of gains in over a hundred years.
Over the last several years, you could have spent a lot of time looking at gold demand figures... watching gold mining output... checking in on the economic condition of major gold buyers like India... and calculating gold purchases by central banks worldwide.
Or you could have just "acted dumb" and looked at gold's long-term trend.
In 2002, gold was at $300 per ounce. Today, it's over $1,600. This obvious idea is one of the most important trading ideas in the world.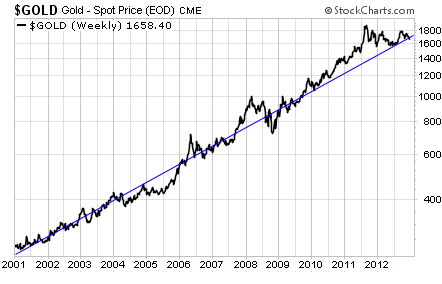 I'm not saying you can't make money trading short-term movements in gold. Growth Stock Wire readers know my colleague Jeff Clark makes a specialty of it.
But ultimately, investing here comes down to simply sticking with the trend.
There are always going to be big moves in any asset. There are always fundamentals to keep in mind. But when sizing up investment choices, make sure to take a deep breath and consider the "big trends." Short-term declines and "news noise" will always get you worried. It's just human nature. Sticking with big trends is what makes you money.
Following this advice amounts to "acting dumb" in the eyes of a mainstream financial advisor. But it's a simple idea we've proven works over and over.
Nobody ever knows exactly what will happen to stocks, the economy, interest rates... or gold. But we DO KNOW trends tend to last far longer than anyone expects.
Right now, the big-picture trend in gold is still UP. Trade accordingly.
Good investing,
Brian Hunt