When natural gas prices are below about $6 per thousand cubic feet (mcf), it's tough to make money producing natural gas. But even back in 2010, prices had been below $6 for more than a year... So how were all those companies staying afloat?
The secret is natural gas liquids (NGLs). NGLs are sort of a cross between oil and natural gas. They include stuff like ethane, propane, and butane. They're used to make chemicals and to fire your grill.
Some natural gas wells will produce these NGLs as a byproduct. And they can make wells a wonderful profit center... as long as NGL prices stay high.
I told you with all the natural gas producers pumping out NGLs, prices couldn't stay high. I was right... If you listened to me, you avoided some major losses. For example, within the six months after I wrote about them...
four NGL processors
had suffered 20%-80% falls. But now, I think things are changing. And it's almost time to make another trade here...
We live in a plastic world. We wrap our food in it, we make our cars with it, we carry it for identification and even for money. In 2011, we consumed 178 million tons of plastic.
Much of that plastic was made from a byproduct of refined oil. Because oil is expensive, that stuff is expensive. But there's a much cheaper alternative. It's called ethane.
And here in the U.S., we're up to our eyeballs in the stuff. You see, ethane is a common component of natural gas liquids (NGLs). In 2009, we produced about 768 million barrels of ethane per day. By 2011, that rose 31% to over 1 billion barrels per day.
And like I told you would happen, prices have collapsed. Take a look...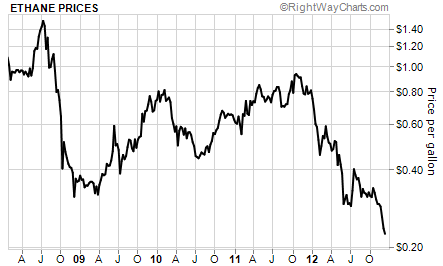 As you can see in the chart above, the price of ethane in the U.S. fell from more than $0.90 per gallon in 2011 to near $0.20 today.
With ethane so cheap, plastic manufacturers here in the U.S. have an enormous competitive advantage. When ethane was between $0.40 and $0.50 per gallon, they produced plastic for between $400 and $500 per metric ton. In Europe, a metric ton of plastic costs about $1,200 to produce.
And thanks to the long-term outlook for NGL production here, manufacturers of plastic are flocking to the U.S. to build new plants. Companies like Germany's Bayer Chemical and Saudi Arabia's Saudi Basic Industries Corp are planning new plants here in the U.S.
Right now, ethane prices are so low, few producers can make any money on it. According to a June presentation from the Midstream Energy Group – an energy consulting company – the average breakeven price to produce ethane is $0.29 per gallon, nearly 50% higher than the current price.
And we could see a jump in ethane prices soon...
In its presentation, the Midstream Energy Group said it expects ethane demand to increase by 60 million to 80 million barrels per day by 2013... and by another 200 million barrels by 2016. That's a 30% increase to current demand.
That demand should boost the price of ethane higher. And when that happens, ethane producers and processors – like DCP Midstream (NYSE:
DPM
), Targa Resource Partners (NYSE:
NGLS
), and Enterprise Products Partners (NYSE:
EPD
) – could see a big jump in profits...
Right now, these companies are seeing their share prices decline as the market takes low NGL prices into account. Two are approaching 52-week lows, so the trend is still against us.
But it's almost time for this trend to turn. And when it does, you'll want to own NGL producers and processors again. I'll let you know when it's time to make the trade.
Good investing,
Matt Badiali