This week, World Dominating Dividend Grower McDonald's announced solid earnings... The company saw same-store sales in the U.S. increase 2.5% for the month of November. Analysts expected a 0.01% increase.
Sales increased 1.4% in Europe and 0.6% in the Asia-Pacific region. The company credited a focus on its Dollar Menu, and the addition of several premium items.
Shares popped 2% on the news. But think way back to October... McDonald's announced same-store sales fell by 1.8% globally. It was the first monthly decline in nine years. U.S. sales were also down 2.2% that month.
Instead of viewing the sales decline as a black eye (after all, it was the company's first monthly sales decline in nine years), Wall Street thought it was the end of McDonald's. The stock sold off 10%.
Despite the fluctuations in the stock price – and the company's recent troubles in Europe – we've maintained that McDonald's (NYSE:
MCD
) is still one of the best businesses in the world.
It's typical for the press and Wall Street to say things are terrible because of one quarter... But if you actually owned a business, you wouldn't be exiting the business because of one bad quarter.
McDonald's has always been a great business... And we'd have no reason to believe that it won't continue to be a wonderful business. I don't know what people will be eating in 10 years, but I guarantee you, McDonald's will find a way to sell it to millions of people around the world.
As regular readers know, Steve Sjuggerud is bullish on U.S. housing. And
in DailyWealth
this week, he told readers the "most direct housing play in the stock market" –
mortgage REIT Two Harbors (TWO)
.
"Virtual banks," as Steve calls mortgage REITs, borrow money at low rates and invest in mortgage bonds paying higher interest rates. Two Harbors invests 80% of its money in government-guaranteed bonds, which carry virtually no default risk. (If the mortgages default, the U.S. government is on the hook.) Two Harbors invests the other 20% in "mispriced" bonds... These bonds are not government-guaranteed, so they do represent a default risk. But they pay a higher yield to make up for the extra risk.
Two Harbors' biggest risk is rising interest rates. But Bernanke's promise to keep interest rates low for years means Two Harbors will continue to borrow at artificially cheap interest rates. And investors can continue collecting its 12% dividend.
But Two Harbors made a recent announcement that makes it an even better play on U.S. real estate. As Steve wrote in
DailyWealth
...
Over the last couple years, TWO has built up a portfolio of more than 2,200 homes... in the foreclosure capitals of America. Top cities for Two Harbors include Phoenix, Tampa, Atlanta, Las Vegas, and Charlotte.
As I write, Two Harbors is in the process of spinning off its portfolio of single-family homes. And you should buy before it does...
Silver Bay is not publicly traded yet... but it will soon. By buying shares of Two Harbors today – before the spinoff – chances are good you will end up getting Silver Bay shares, too. Chances are good Two Harbors will pay out shares of Silver Bay in a "special dividend" to Two Harbors shareholders.
This will be significant – somewhere between 8% and 10% of the value of Two Harbors.
Last week, Goldman Sachs, one of the most respected banks on Wall Street, told its clients to sell gold... Goldman lowered its 12-month price target for the precious metal from $1,940 to $1,800 per ounce. Gold sold off on the announcement.
But master trader Jeff Clark thinks the recent drop in gold presents one of the year's great buying opportunities. He's using the selloff to buy gold. The recent 4% decline in mining stocks has pushed the sector to prices similar to what we saw in May (when
gold stocks
popped 20%-30%). Here's what Jeff told his
S&A Short Report
subscribers:
In theory, once-in-a-decade opportunities are only supposed to come along every 10 years or so.
But we've had two such moments in gold stocks already this year. Back in May and July, gold stocks were trading at their cheapest value relative to gold than they had been at any other time in the past decade – except for the October 2008 financial crisis.
We took advantage of those situations and bought gold stocks aggressively. And we racked up a string of winning trades.
The same condition exists today.
Take a look at this chart comparing the Gold Bugs Index (the HUI) to the price of gold...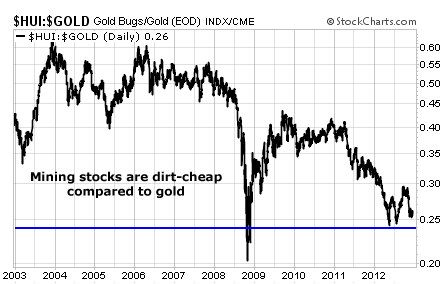 Copper giant Freeport-McMoRan (NYSE:
FCX
) recently announced its return to the energy sector.
Freeport-McMoRan is a mammoth $30 billion copper and gold mining company. It owns a 90% stake in the gigantic Grasberg mining complex in Indonesia, the world's largest copper and gold mine in terms of recoverable reserves. Thanks to the massive production at Grasberg, the company is the world's largest publicly traded producer of copper.
The company recently confirmed that it is spending $9 billion to acquire energy producers Plains Exploration (PXP) and McMoRan Exploration (MMR), a company Freeport-McMoRan spun off in 1994.
McMoRan Exploration's activities include oil and gas exploration, development, and production in the shallow waters of the Gulf of Mexico and onshore in the Gulf Coast region. Plains Exploration from Texas, which holds a 31.5% stake in McMoRan Exploration, owns oil and gas properties in California, the Gulf Coast region, Gulf of Mexico, and the Rocky Mountains.
Investors didn't like the news. Evy Hambro, a fund manager at Blackrock who owns a substantial 3.1% stake in Freeport-McMoRan, lashed out on the company's conference call. "Congratulations on making one of the worst teleconferences that I have ever heard to justify a deal," Hambro said. "I haven't heard anything on this call that in any way justifies why these companies should be put together."
Hambro clearly wasn't alone. News of the deal sent Freeport-McMoRan's share price in a tailspin, shaving 15% off its market cap.
While FCX's share price was getting clobbered... McMoRan Exploration shares soared 87%. Plains jumped as well – up 23% the same day. Shareholders in McMoRan Exploration will love the news, as the company recently suffered a massive selloff – dropping 35% over two days. They've since recouped those losses, plus a healthy gain.
Regards,
S&A Research