Last week, the market confirmed Steve Sjuggerud's opinion that the
Bernanke Asset Bubble
has "gone global."
Regular Stansberry & Associates readers are familiar with Steve's Bernanke Asset Bubble idea. In short, Fed chief Ben Bernanke will do everything in his power to fire up the lackluster American economy. He'll flood the system with cheap money, which will drive the price of stocks and real estate much higher than most people think is possible.
Steve has been dead-on with his call. Helped by the Bernanke stimulus, stocks have climbed. The benchmark S&P 500 Index is up 38% since mid-2010. The real estate market is recovering.
And since so much of the world dances to the tune of the U.S. dollar, foreign assets are rising as well... which creates trading opportunities.
For example, the iShares Emerging Market Fund (NYSEARCA:
EEM
) is a diversified basket of
foreign stocks
. The fund has large weightings in China, Brazil, and Russia.
As you can see from the two-year chart below, the EEM suffered badly in mid-2011. This was during the European debt crisis. Like most assets, the EEM rallied off those 2011 lows and corrected in mid-2012.
Now note the right hand side of the chart. You'll see how the EEM is recovering from its correction... and just "broke out" to its highest level in more than seven months.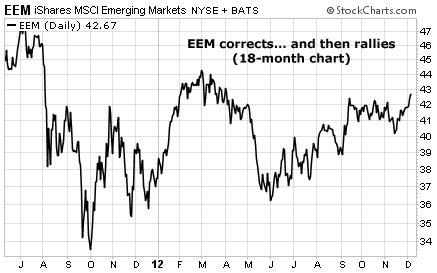 This bit of price strength is bullish confirmation that the U.S. central bank and its foreign cousins are succeeding at "goosing" stocks higher.
As Steve has highlighted, some
emerging markets – like India
– are still cheap. They have the global printing presses at their back... and the trend is up. That's why it makes sense to be long emerging markets.
Good trading,
Brian Hunt