As "Big Pharma" is forced to loosen its grip on America's top-selling drugs... billions of dollars are flowing to the competition.
A patent grants a company the right to exclude competitors from selling its product for 20 years. Once a patent expires on a blockbuster drug, it can siphon billions from a company's bottom line. According to industry researcher EvaluatePharma, the drugs coming off patent in 2012 alone are worth an estimated $67 billion in sales.
While Big Pharma companies struggle to replace these huge sales generators, the big winners are generic drugmakers...
A "blockbuster" drug is one that generates over $1 billion in annual sales. For example, Plavix, a pill used to prevent blood clots after a heart attack, generated over $6 billion in 2010 for Bristol-Myers Squibb. Seroquel, which is used to treat schizophrenia, generated over $5 billion in 2010 for AstraZeneca. And Singulair, a tablet used to prevent Asthma attacks, has generated over $3 billion in annual sales for Merck.
Today, these drugs are no longer blockbusters.
The patents on these signature drugs have expired. And losing this "exclusivity" has opened up the door to new competition...
Once brand-name drugs come off patent, generic companies are allowed – by law – to make nearly identical products. Since these blockbuster drugs have already been developed and marketed over their 20-year history, the generic companies don't have to incur these costs.
In June, I told you about the three biggest companies in the generics sector: Watson Pharmaceuticals (WPI), Mylan (NASDAQ: MYL), and Teva Pharmaceuticals (NYSE: TEVA). As you can see in the chart below, they've have had a great run. The stocks are up an average of 20% since my write-up. That's about 15 percentage points higher than the S&P 500 index in the same time frame.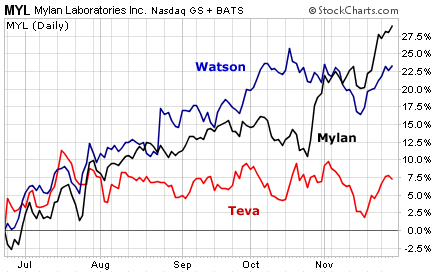 I believe these stocks have much more upside.
According to EvaluatePharma, $290 billion of sales are at risk from patent expirations through 2018. That averages out to $50 billion a year over the next six years.
And right now, Watson, Mylan, and Teva are cheaper than their Big Pharma peers, which are themselves cheaper than the average S&P 500 stock. But these generic drugmakers will see massive growth as tens of billions of dollars in blockbuster drugs come off patent over the next six years.
Based on valuation and growth potential, I can't find another sector I'd rather own over the next few years. I recommend buying these stocks on any pullback.
Good investing,
Frank Curzio