After a short "bust" phase, it's time to buy biotech again.
Regular readers know we see biotechnology as one of the great "boom and bust" sectors of the stock market.
With its promise of individualized medicine, cancer cures, and miracle drugs, few sectors capture imaginations and speculative money as well as biotechnology. As Steve Sjuggerud has written several times, if you catch a good biotech boom,you can make extraordinary gains.
From October 2011 to October 2012, biotech enjoyed a quiet boom. Shares steadily gained... but received little mainstream press. The Nasdaq Biotech Index climbed 50% in just a year. We alerted you to this
"stealth bull market"
several times.
However, like all bull markets, the
biotech bull market
needed a break. Every big trend needs healthy, natural corrections to shake off latecomers and restore balance.
A post-election market selloff restored that balance. In the one-year chart below, you can see how biotech just corrected. The Nasdaq Biotech Index fell from 1,533 to 1,339 in just weeks.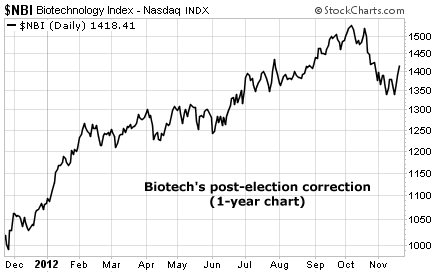 Take another look at the chart. Note how the index has dug in a "toehold" in the 1,350 area. This marks the lowest point sellers could push the
biotech sector
during the selloff. It also marks a solid buy point for traders who want to profit from the uptrend in biotech. One can buy individual companies here... or a diversified fund like IBB or BIB (a double-leveraged fund).
Biotech's long-term investment picture is bright. The sector is generating incredible, headline-producing treatments. Large drug companies need to replenish product pipelines... so they're sure to purchase smaller, more innovative companies over the years.
The correction has washed out a lot of optimism. But the long-term bull market is still in force. That's why taking some biotech positions here makes sense.
Regards,
Brian Hunt
Further Reading:
Growth Stock Wire classic: Biotech is one of the biggest boom and bust sectors known to man. "Whenever a breakthrough in cloning, genetic engineering, or stem-cell treatments bubbles up out of a lab and finds itself on the front page of a newspaper, investors go temporarily insane," biotech expert Ian Davis writes.
Over the past three decades, the biotech sector has exploded for triple-digit gains three times and quadruple-digit gains once. (It's also lost more than half its value four times.) See the surprising chart here:
Biotech Is Setting Up for Another 1,347% Rally
.