The laws of economics remain inviolable... Oil had its biggest drop in a year recently, falling 4.8% to less than $85 a barrel. According to the Department of Energy, Hurricane Sandy halted shipments to the East Coast and forced refineries to shut down.
Gasoline stockpiles rose by 2.9 million barrels two weeks ago... And East Coast demand fell 6%. Falling demand and rising supply add up to lower prices. That's Economics 101. (The best economics primer is Henry Hazlitt's classic work, Economics in One Lesson.)
"The market was surprised by the gasoline build," said Gene McGillian, a broker at energy brokerage Tradition Energy. "There's ample supply."
While Sandy may have had a short-term impact on oil prices, a larger trend is in play. We've written a lot this year about the huge amount of oil and gas coming from U.S. shale plays, like North Dakota's
Bakken
, Texas'
Eagle Ford
, and now,
Oklahoma's "SCOOP."
The massive production from the shale plays could also drive the price of natural gas even lower than it already has. Natural gas is down to less than $4 per thousand cubic feet (mcf) from its highs of around $14 in 2008. But the fundamentals aren't there for a rally...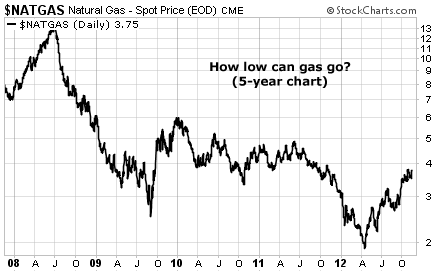 Natural gas is a byproduct of oil production... And the shale plays are producing more than they know what to do with.
The International Energy Agency recently reported that another 65 billion cubic feet (bcf) of natural gas moved into storage.
Natural gas inventories
now sit around a record 4 trillion cubic feet...
One of our most trusted advisors in the oil business sent us a note recently about the "massive amounts of natural gas" being produced... Right now, drillers are producing so much gas (as a byproduct of oil) that they're either flaring it off (safely burning the gas off) or venting it (releasing it into the atmosphere). There's simply nowhere to store it...
The price should probably be in the $2 to $3 range. I can actually see [it] in the $1 range, or even have to be vented/flared. One of my better oil finds in Foard County currently has the gas being vented. I'm also venting a lot of gas in Dickens County as well. There is neither a market nor storage facility in these areas.
I also believe there are massive amounts of gas being vented in the Bakken areas of North Dakota because [there's] no market. Nationwide gas storage is just about full. If the U.S. has a mild winter, there'll be no place to store any more gas.
If there truly is no market or storage facility, the cost of natural gas could go negative... There's nobody to buy the commodity (zero bid), and the producers would have to pay to have it flared or vented.
Gas has already been crushed... But it can always go lower...
This natural gas situation is, of course, a good thing. It means natural gas is far more abundant today than in past years. That makes it cheaper. So everything we make that uses natural gas is cheaper, too. For example, fertilizer maker CF Industries recently reported record third-quarter earnings. The company said its gross profit margin rose 16% over last year's third quarter. Management said low natural gas prices were much of the reason.
Other businesses are benefiting not only from low natural gas prices, but low prices for
natural gas liquids (NGL)
like propane, the fuel many folks use for their backyard barbecues. We're producing so much propane, we're going to start exporting large amounts of it soon. Propane and other NGL prices are down approximately 50% from a year ago, according to a recent article at natural gas industry information provider ShaleDaily.com.
All over the country, lower natural gas and NGL prices are making it more profitable to do business in the U.S. For example, not long ago, the U.S. was the highest-cost producer of ethylene, a chemical used to make polyethylene, the most widely used plastic in the world. It's highly likely you're surrounded by products containing ethylene wherever you're reading this right now.
Now, the U.S. is the second-lowest-cost producer of ethylene in the world, next to the Middle East. Why the big reduction in costs? Well, the second-biggest component of natural gas is ethane. And ethane's one and only use is to make ethylene.
That's not all that's happening... New steel tubing plants are being built in Ohio to serve the boom in natural gas production. Billions of dollars are being invested by companies like BP and Dow Chemical to build and expand chemical plants in the Gulf Coast and other areas. And of course, pipelines are being built all over the U.S. to bring vast new supplies of natural gas, crude oil, and NGLs to market.
The report features our seven top pipeline stocks (including the one mentioned above), information about tax advantages of owning pipeline stocks, and our proprietary, seven-part model for picking the safest and most lucrative high-yield pipeline stocks.
The report is called "An A.O.P. Retirement," and it's available free with a no-risk trial subscription to
The 12% Letter
(one of our lowest-cost products). It's no-risk because if you let us know within the first four months of your subscription that
The 12% Letter
isn't for you, you'll get a full refund. We want you to be happy. That's how we like to do business.
Click here
to get access now (without sitting through a long promotional video).
Not everyone benefits from lower natural gas prices. America's most active natural gas driller and second-largest natural gas producer, Chesapeake Energy, is at the other end of the spectrum of low natural gas prices. It reduced the value of its natural gas reserves by $2 billion last quarter. That basically wiped out 4.9 trillion cubic feet of gas and led to the company's biggest net loss in three years.
Chesapeake founder and CEO Aubrey McClendon said on a conference call recently, "We've been battling natural gas headwinds driven by relentless supply growth." As usual, the ever-charismatic McClendon spins it his way... Though oil is just 14% of the company's production today (up from 9% last year), McClendon insists, "Chesapeake today is more of an oil story than a gas story."
Chesapeake plans to reduce its $15.8 billion debt load to $9.5 billion. With production levels falling and gas prices scraping the bottom, how does it plan to generate the cash to reduce debt? Management expects to sell $17 billion to $19 billion of assets by the end of 2013. McClendon says the company is cutting "to the core of the core" of its assets. Chesapeake expects to close on the sale of its midstream business (natural-gas-gathering pipelines and processing plants) by the end of the year.
With Chesapeake selling so many assets, it makes you wonder how it's going to produce the huge gains in the stock price McClendon suggested a couple years ago...
Chesapeake's founder spent a fair portion of his 2010 letter to shareholders telling them why he thinks the company will have a $100 share price by 2015. That's a weird focus for a shareholder letter, but McClendon has never worried about being a little different.
The stock is a little under $17 today. If McClendon is right, the stock will produce a profit of nearly 500% by 2015. If McClendon is even half-right about his company's share price, it's an awesome contrarian play staring the whole world straight in the face.
My colleague Porter Stansberry has gone even further than I did with the American Industrial Renaissance... Porter predicted the jobs and prosperity created by the U.S. shale revolution would put Obama in office for a second term... And sure, enough, our glorious Komrade Obama won the election.
But you know Porter... He didn't stop there. He recently made one of his most outrageous predictions to date. Porter believes Obama could be elected for a third term. Yes, we're aware the 22nd Amendment currently bars him from being elected again... You'll have to read Porter's work to learn how he expects things to play out...
We know from the feedback we received following the election that you're worried about the state of our nation. And if you think Obama's re-election is bad for the country, you'll want to see Porter's latest research.
Click here
to learn more...
If you've dismissed a third term for Obama as a crackpot idea... you should know, a major mainstream news outlet is also speculating about the possibility. The
Washington Post
's website posted
this essay
recently...
It's a scenario you shouldn't ignore.
Regards,
Dan Ferris