Is it time to buy gas royalty trusts yet?
Royalty trusts are among my favorite business models on the planet. They simply collect cash from oil and gas wells drilled on their lands.
They are passive, low-risk investments that, if bought at the right time, can provide commodity investors with double-digit yields... and you don't have to depend on commodity prices rising.
When commodity prices are falling, however, it can get ugly. And that's where we were early this year.
Let's look at how San Juan Basin Trust (NYSE: SJT), one of my favorites in the sector, has done since then...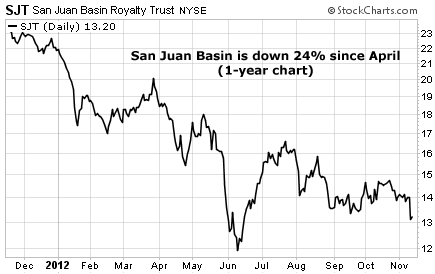 In short, it was crushed. The price is down 24% since April... which would more than wipe out all the benefits of a high yield.
San Juan fell because natural gas prices plunged from about $4.75 per thousand cubic feet (mcf) in mid-2011 to under $2 – their lowest price since 2009.
But since that low, natural gas has gained more than 75%. It's over $3.50 per mcf. So is it time to buy back in?
Trying to predict natural gas prices is a sucker's bet... But low prices are bringing on new demand for natural gas, especially from
power plants switching over from coal
. If prices get too low, producers will shut in wells, reducing supply and pushing prices right back up. And if prices rise, we'll see more production from the country's huge
new natural gas supplies
, pushing prices right back down.
So it's reasonable to figure this year's range – from $3.80 per mcf to as low as $1.80 – will cover most of what we'll see from natural gas over the next few years. And that means this year's dividends will be about as much as we can expect from natural gas royalty trusts over the next few years.
San Juan has paid out an average $0.07 per month in dividends so far in 2012. That works out to $0.84 per year. When you're investing in commodities, you want to be paid for taking on risk, so I like to own these trusts when they're paying out double digits. That would put my rough "buy" price for San Juan between $8 and $9. Right now, it's going for more than $13... So it's not time to buy yet.
I did similar "back of the envelope" math for San Juan's peer group... And it turns out, some of them are already in "buy" range or close to it. Take a look...
| | | | |
| --- | --- | --- | --- |
| Royalty Trust | Estimated Dividend Per Year | 10% Yield Price | Current Price |
| San Juan | $0.84 | $8.40 | $13.07 |
| Mesa | $2.04 | $20.40 | $21.57 |
| Sabine Royalty | $3.84 | $38.40 | $44.60 |
| Permian Basin | $1.32 | $13.20 | $12.20 |
That's not to say that the share prices won't fall from here... they could. Natural gas prices could return to their lows – or past them – and stay there. That would bring natural gas royalty trusts down farther.
But if I'm right about the range we can expect for natural gas – or if it climbs more than I expect – now is a good time to start looking for high yields.
Good investing,
Matt Badiali