After doing nothing but falling for the past seven weeks, Big Cheap Tech is ready for a rebound.
Regular Stansberry & Associates readers are familiar with our "
Big, Cheap Tech
" label. Many of the world's dominant tech companies, like Apple, Microsoft, Cisco, and Intel are trading for cheap valuations right now.
And when you factor in their huge cash hoards, they get even cheaper...
Cisco, for example, has a market cap of $89 billion... but has over $30 billion in net cash (cash on hand minus debt). The company generates over $10 billion in cash per year. It's committed to paying a lot of that cash to shareholders in the form of dividends and share buybacks.
My colleague Dan Ferris points out that Cisco is so undervalued, shares could rise 50% and still be cheap.
If Cisco and its fellow tech giants are a good buy, you wouldn't know it from their share price action since mid-September. The big tech fund (NASDAQ: QQQ) has fallen from $70.40 to $63.60 (a 9.7% decline). This fund is stuffed with the companies I just mentioned.
Part of this decline is due to weakness in the broad market. Part of it is due to a large decline in Apple (which has a 17% weighting in QQQ). But after falling so far so fast, tech stocks are ready for a bounce.
Below is a two-year chart of QQQ. It has an extra "pane" at the bottom. This pane contains an indicator called the "RSI."
The RSI is an indicator that measures overbought and oversold conditions. A reading of more than 70 indicates an asset is getting overbought and "stretched" to the upside. A reading below 30 indicates an asset is oversold and "stretched" to the downside.
Often, extreme RSI readings precede snap-back moves in the other direction. It's the natural way a market relieves pressure.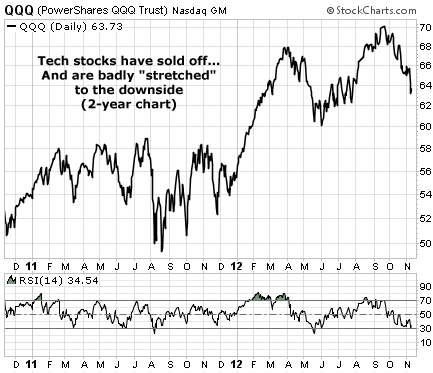 As you can see, QQQ is at an RSI level similar to mid-2011 and mid-2012. Each time QQQ was this badly oversold, it staged a sharp rally. That's likely to happen again.
Sure, the news and sentiment is all bad for tech stocks. Everyone on CNBC hates Apple stock right now. People are terrified of the whole stock market... and the fiscal cliff.
Regards,
Brian Hunt