No matter what happens in the election this week, traders need to keep the "big picture" in mind right now...
When we say "big picture," we mean looking at the stock market from a multiyear viewpoint... not just a few months. Taking this view will help you make more money over the coming months.
Today, we're looking at the benchmark S&P 500 over the last three and a half years, starting from mid-2009.
As you can see from the chart below, the "big picture" shows that stocks are locked in a long series of "higher highs and higher lows." This simply means each push higher results in higher prices than the previous push (higher highs). It also means each correction stops short of the previous correction (higher lows). This is the definition of an uptrend. It is classic bull market price action.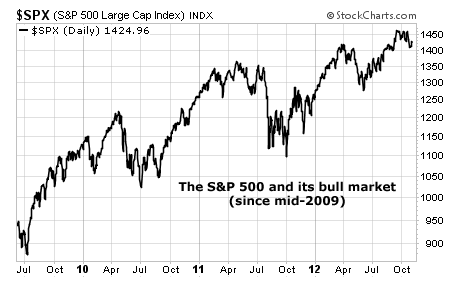 Here's why this "big picture" is important...
From its summer 2012 low of 1,278.04 to its fall 2012 high of 1,465.77, the S&P 500 gained 14.7%. This is a huge gain in such a short time.
Like any big push higher, this one is being followed by a natural correction. Stocks have fallen about 4% from their highs. This correction is being accompanied by a lot of bearish predictions for stocks. "Doom and gloom" financial advisors are warning their readers of another crash... or another severe recession.
We say go ahead and listen to the bears. It's good to hear both sides of a debate. As traders, we don't have a bias or an agenda to defend. We are mercenaries... We will go to whichever side of the market offers the most money for the least amount of risk. And we are willing to change our minds instantly. This is an important attribute that helped make George Soros the greatest trader ever.
Right now, the right side, in our mind, is the long side. Sure, stocks can keep correcting. But many years of trading have taught us that minding the "big picture" – the overall trend – is a key component of successful trading. It's far more important than just about anything anybody can dream up.
When sizing up the current trend in stocks, we see that the S&P 500 could suffer another big correction down to 1,325 (another 6% lower from here) and still stay in its uptrend.
Keep in mind... the market's multiyear, glacier-like tendency to set "higher highs and higher lows" is the big trend. Until we see this trend completely wrecked, corrections are opportunities to go long.
Regards,
Brian Hunt