"Natural gas prices seem cheap," I said to Cactus during our drive across the Eagle Ford shale in Texas a few weeks ago.
In fact, I thought it was a good time to buy some of the large natural gas producers. After all, it seemed natural gas prices were poised to move higher off their depressed levels over the next few years.
"Frank," Cactus cautioned as we passed a 200-foot drilling rig on our left, "I would think twice before buying these companies right now."
Natural gas producers are on fire.
Over the past six months, large producers like Chesapeake Energy, Encana, and Talisman Energy are up 25%-plus from their lows. From a technical standpoint, they look to be headed higher – they're now trading above their 200-day moving averages. (If an asset is trading above its 200-day moving average, it's in a bull market.)
Most of the gains can be attributed to the huge short-term surge in natural gas prices. As the chart below shows, the clean fuel is up more than 90% off its April lows.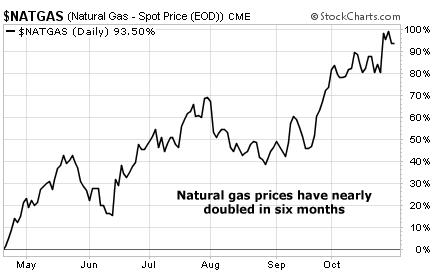 Before jumping into this trend with both feet, there are a few things you should know...
Cactus is one of our most trusted oil and gas experts. He's been drilling for oil and natural gas in Texas for more than 30 years... with personal interests in over 1,000 drilling projects.
He took me on a tour of the Eagle Ford to show me how major producers are using new technologies to rejuvenate wells long thought to be dry.
As Growth Stock Wire readers know, new technologies like fracking and horizontal drilling have unlocked huge amounts of natural gas that were once thought to be non-existent. According to Apache CEO Steve Farris, the U.S. is sitting on a 300-year supply.
This number may sound far-fetched. Government statistics show our supply is more like 90 years based on current demand. However, Cactus also confirmed that we have at least a 300-year supply of the clean fuel.
You see, most of the technology behind fracking is still in its infancy. Today, roughly 10% of natural gas is recovered from an unconventional well. Cactus says 10 years from now, this percentage could double or triple as technology advances.
Also, producers are able to drill much deeper. While we spent most of our time driving through the Eagle Ford, Cactus took me to several big, undeveloped shale areas in west Texas. We drove for miles without seeing a house or local store. Yet, we saw 200-foot drilling rigs 50 yards off the main road.
In short, new drilling technology will help us recover even more natural gas from existing wells. Plus, there are still shale areas yet to be discovered in the U.S. that have huge amounts of natural gas.
Turning to prices, Cactus told me we will always have these huge price swings. With natural gas prices below $3.50 per thousand cubic feet (MCF), most producers can't make money producing the clean fuel. That's why the natural gas rig count is down 53% from last October, a 13-year low.
Taking this much supply off the market will result in a temporary spike in prices, like we are seeing today. Prices could even push through $4.50 MCF in the short term. However, most producers will then flood the markets with natural gas.
I asked Cactus how long it would take for a company to start producing natural gas from existing wells. He said, "Large companies like Exxon can get production back up in a week. That's because the infrastructure – from pipelines to electricity – is already in place."
My advice is to take profits in natural gas producers. These companies are trending higher due to the recent rise in natural gas prices. But this move will be short-lived as massive amounts of natural gas hit the market in the coming months.
Good investing,
Frank Curzio