It has been a bad week for Wall Street.
The S&P 500 lost 1.5% last week. Bank stocks fell almost 2.5%. Precious metals were down anywhere from 0.2% to 4.4%. Crude oil dropped 5%.
And as if all that wasn't enough, the market shut down yesterday so traders could board up their windows in anticipation of Hurricane Sandy.
Ironically, lumber prices popped 3% higher last week.
Another sector showing strong relative strength was the semiconductor group. The chip sector bucked the downtrend and was up 0.7% for the week. This is great news for anyone hoping for a year-end rally in stock prices.
Take a look at this chart of the Market Vectors Semiconductor Fund (NYSE: SMH)...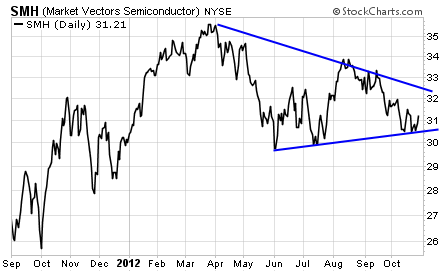 This chart illustrates a six-month-long consolidating-triangle pattern. The chip sector is storing up energy for a big move one way or the other. When the chart breaks out of the pattern, it could lead to a move of as much as 20% or so.
The chip sector's ability to move higher last week while almost everything else was selling off is a good sign for the bulls. A better sign will be for SMH to break above the down-trending resistance line with a move above $32.50.
So keep an eye on this chart. As the S&P 500 approaches
the 1,390 target I shared with you last week
, traders should watch leading sectors like the semiconductor group for signs of strength. It'll provide an early clue that a year-end rally is ready to unfold.
Best regards and good trading,
Jeff Clark