If the world doesn't end in the next 12 months, investors who buy transport stocks today will make a lot of money...
This year has been terrible for transport stocks
–
the railroads, airlines, and shippers who move goods around the world. While the broad market is up 12% this year, the Dow Jones Transport index is barely in positive territory. More importantly, the index is down 7% off its highs from nine months ago.
Transport stocks are tied to the global economy. So every headline about Europe's debt crisis or China's slowing economic growth makes more people avoid transports. After all, a weak economy means less cargo being shipped... fewer overnight packages being delivered... and less revenue for the entire transport sector.
As a result, the entire sector is as cheap as it has been in more than a year. Looking at the price-to-earnings ratios of transportation stocks, most are trading near their lowest levels in 10 years, excluding a few months in late 2008, as the financial crisis unfolded. Below, you can see how cheap the sector is right now compared to the past decade...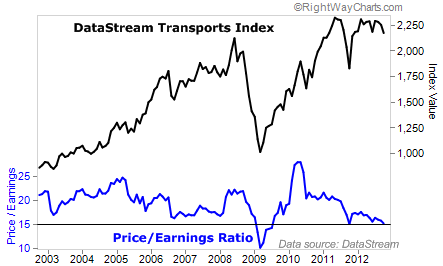 Most investors are terrified of another recession. But any economic weakness will be met by massive stimulus plans from governments around the world.
In short, Steve believes that Federal Reserve Chairman Ben Bernanke will do anything to prop up the U.S. economy. That includes printing money and keeping interest rates super-low for years. His efforts will create bubbles across multiple assets, including stocks.
Last week, Steve updated his outlook for readers. He noted that the Bernanke Asset Bubble has "
gone global
."
In other words, investors can buy transport stocks at bargain-basement levels right now... with confidence that politicians will do whatever they can to boost the economic activity that drives these businesses.
Investors looking to take advantage of cheap valuations in U.S.-based companies can start with companies like FedEx and UPS. These companies are the closest thing to "world dominators" of the transport industry. Both generate about 30% of their business outside the U.S., meaning they have direct exposure to any improvement in the outlook for the global economy.
FedEx and UPS are both sitting around their cheapest valuations since early October of last year, when concerns about the global economy were rampant. Shares of both names generated big gains for bargain hunters. Shares of FedEx soared 45% in just four months while UPS posted a respectable 23% gain.
In sum, a "bad to less bad" recovery in the global economy is all that's needed for transport stocks to start a fresh rally over the next few months.
Good investing,
Larsen Kusick