The Volatility Index (the "VIX") decided not to wait for Election Day.
To get an idea of how far stocks could fall, take a look at this 60-minute chart of the S&P 500...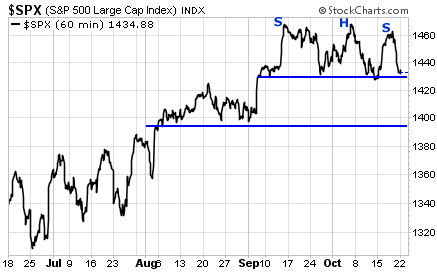 The chart shows a head-and-shoulders topping pattern. This is a bearish pattern that often signals the end of a bullish trend and the beginning of a bearish trend. Since this is a 60-minute chart and not a daily chart, it is best-used for identifying short-term trends, not intermediate- or long-term ones.
The left shoulder on the chart formed when stocks rallied right after the Federal Reserve announced its third round of quantitative easing. The S&P 500 reached 1,467 and started selling off back down toward support at 1,430.
The next rally formed a "higher high" and created the head of the pattern at 1,470. Then stocks came back down once again to support at 1,430.
The right shoulder formed last week when the S&P 500 rallied to a "lower high" at 1,465. Now we're sitting at support and stocks are threatening to break the neckline of the pattern to the downside.
The distance between the head and the neckline is about 40 points. So if the S&P 500 breaks decisively below support around 1,430, the pattern measures a 40-point drop. That would take the index all the way down to 1,390 – which lines up just about perfectly with the support line of the August and September lows.
If you're looking for a year-end rally in the market, that looks like a good spot to start nibbling on stocks.
Best regards and good trading,
Jeff Clark