The gold stock "pause" is on...
But over the last few weeks, our colleague Jeff Clark has been warning gold traders to
watch for a break in this rally
. And gold has played out exactly like he expected...
The metal is down $50 off its highs over $1,790 an ounce. GDX is down about 7%. And Jeff believes there's more downside ahead. If he's right, there's going to be a great trade in small gold stocks...
GDXJ is a large investment fund of small-cap gold and silver stocks. These are the more speculative members of the mining sector. In a favorable environment, these stocks tend to "rip" to the upside faster than the big miners.
They also tend to be more volatile...
Like most mining-related assets, GDXJ suffered a big fall from early 2011 to mid-2012. After a 55% drop, it bottomed this summer around $18 per share... and surged when the gold rally we expected arrived.
Shares climbed from $20 to $25 in just over a month. But with the pullback in gold, GDXJ has dropped a bit. It's down about 8% from its peak in September.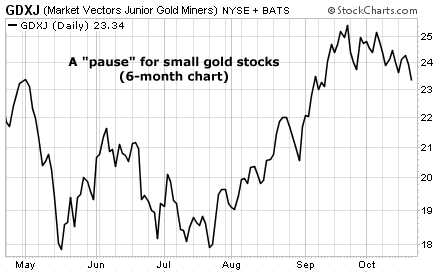 After GDXJ's big run in August and September, it's only reasonable to expect the fund to give back some of its gains before it takes another big leg up.
A pullback into the $22-$23 area would be a healthy correction... and it would offer a good entry point. When the gold-stock rally resumes, these small gold stocks will soar.
To sum up, the mining stock correction has arrived. Smart traders will use this correction to put on more mining stock trades.
Good trading,
Amber Lee Mason and Brian Hunt