The U.S. shale oil revolution continues its rapid expansion... and not just in North Dakota.
North Dakota's Bakken shale has been a game-changer for U.S. domestic oil production. The application of new recovery technologies – like hydraulic fracturing (or "fracking") and horizontal drilling – has unlocked astounding quantities of oil and natural gas. North Dakota will soon surpass OPEC member Qatar's output of 777,000 barrels of oil per day. But the U.S. shale oil revolution is not limited to North Dakota...
The Tulsa World reports oil explorer and producer Continental Resources (CLR) just unveiled a new shale oil discovery in Oklahoma. Continental is already the No. 1 producer, land owner, and well driller in the Bakken. Now, it's found a formation with a similar geologic composition to the Bakken. It's called the South Central Oklahoma Oil Province (SCOOP). Continental estimates the SCOOP may yield 1.8 billion barrels of oil over the coming decades. The company plans to drill more than 2,000 wells in the formation.
Between its
Bakken
and SCOOP shale plays, Continental expects to produce 300,000 barrels of oil per day by 2017. That's more than triple its current daily output.
But perhaps the most powerful fact of all comes in a statement from the company's senior vice president of exploration, Jack Stark.
The NewsOK website, run by the Oklahoman newspaper, quotes Stark saying, "Anything we learn on one resource play can be transferred to the next play... the technology we have perfected in the Bakken is directly transferrable to what we're doing here."
Stark is restating an economic truism: Production becomes more efficient over time. Improvements in technology and economies of scale drive production costs down. Every new shale formation benefits from the production enhancements of the previous ones... resulting in increasing supply and declining oil prices.
In 2013, Continental estimates the oil it produces will trade at a discount of $8-$11 per barrel to Brent crude.
Brent crude is oil produced from the North Sea, and its price represents a benchmark for oil in Europe. It is a low-density petroleum with a low sulfur content. (That's known as "light" and "sweet" in the oil industry.) Produced from conventional drilling operations, Brent crude has typically traded at a slight discount to U.S.-produced West Texas Intermediate (WTI) crude.
But take a look at the divergence between Brent and WTI since the U.S. shale oil revolution began to take hold in 2011... The spread has grown considerably. Brent crude prices have risen more than 45%, while WTI prices in the U.S. are 15% above where they were two years ago (notwithstanding a couple sharp spikes).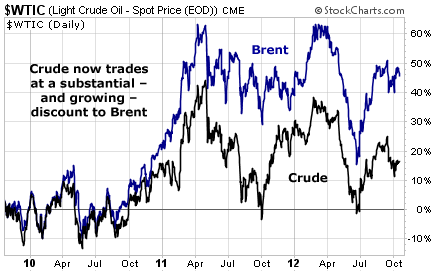 The data is undeniable. The U.S. has massive, proven supplies of shale oil... exploration companies like Continental Resources continue to discover new plays like the SCOOP in Oklahoma... and increasing efficiency in shale oil production will swell supplies even further.
Our resident geologist,
S&A Resource Report
editor Matt Badiali, was in Miami last week attending a conference held by Canaccord Genuity, an investment bank covering the natural resource sector.
Continental Resources CEO Harold Hamm spoke at the conference about his company's SCOOP discovery, which Matt says "will shake the foundations of what we think we know about shale basins."
Matt sent an e-mail to some of us at S&A explaining what Continental is doing in the SCOOP. I've excerpted a bit below...
[Continental is] the face of the Bakken... The company put out an estimate of 24 billion recoverable barrels for the Bakken in 2010. It increased the estimate to 45 billion barrels today. Normally that would be THE STORY... but it's not. Here's why.
SCOOP [is a] region that produced 3.2 billion barrels of oil over 100 years from 60 oilfields. It's also home to the Woodford Shale. That's an expensive, dry gas shale that folks were hot for a few years ago, but have virtually abandoned today.
Continental snuck back in and leased up about 170,000 acres in the deep basin. I need to explain that so you understand why you just DON'T DO THAT. The way we understand shale basins is that, as you go deeper, the basin gets hotter and under more pressure. So if the shallow parts of the basin already hold dry gas, then going deeper will just get you more gas.
What Continental figured out was, a formation that sourced that much oil couldn't be as gassy as everyone suspected. So it did some "geology" and figured out that the deep basin was actually moved... In other words, a cooler, shallower, oilier section of shale was pushed deeper under other rocks.
Great theory, but it needed to be tested. So Continental drilled three wells. They flowed 702 barrels per day, 670 barrels per day, and 626 barrels per day, respectively, and averaged more than 80% liquid hydrocarbons... oil. The company estimates that each well will produce 1.2 million barrels of oil over its lifetime.
This will be the biggest new discovery this year and has huge potential. I'm flabbergasted, because this is in Oklahoma. It's ground that was walked over for better than 100 years. It's a basin that all the major and big mid-tiers reviewed and walked away from.
This is what I love about the oil and gas industry. Smart people making huge discoveries.
In August, Porter Stansberry produced a series of four reports explaining the tremendous shift in the global energy sector all this U.S. oil and gas production is causing. In these reports, he describes newly tapped shale regions that have huge potential. SCOOP is part of one of the regions he details. Several others have yet to make mainstream headlines...
He also provides two different strategies to invest in these new shale plays. To learn more about Porter's work on this phenomenon – and gain access to his recommendations for investing in it –
click here
.
Regards,
Sean Goldsmith