Get ready for some fireworks. Stocks are gearing up for a big move.
For the past six weeks – ever since the Fed announced its third round of quantitative easing – the S&P 500 has been waffling back and forth between about 1,430 and 1,465. That's a relatively tight trading range, especially for an environment filled with so many headlines.
This lull in the action has allowed stocks to store up energy for their next big move. The obvious question is... Will that move be higher or lower?
To get the answer, just watch the Volatility Index (or "VIX").
The VIX – which is best used as a measure of investor fear – has been waffling back and forth along with the stock market. As you can see from the following chart, the recent series of lower highs and higher lows has traced out a consolidating-triangle pattern...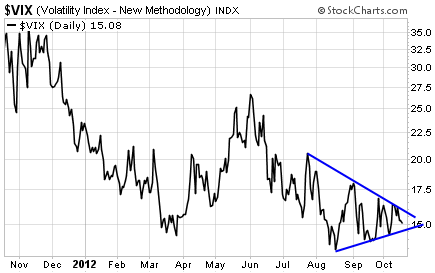 There's still some room inside the triangle for the VIX to ping-pong back and forth. But it is approaching the breakout point. The direction of that breakout on the VIX will influence the direction stocks move from here.
The Volatility Index often moves in the opposite direction of the stock market. So if the VIX breaks the triangle to the downside, investors can look forward to rising stock prices and new highs for the year. If the VIX breaks out to the upside, look out below. The stock market correction that nearly everyone has been anticipating will finally be underway.
Either way, there's a big move coming.
It looks like the apex of the VIX triangle is right around Election Day next month. So not only do voters have an important decision to make in early November... apparently the market does, too.
Best regards and good trading,
Jeff Clark