Another month... another new high in biotech.
Regular readers know we've been keeping close tabs on the monster uptrend in the "boom or bust" sector. If you're still long,
congratulations, you're still making money
. On Friday, the
Nasdaq Biotech Index hit an all-time high
.
If you missed this run, don't worry. The same "big picture" trend that's driving biotech higher is also boosting another area of the market. And there could be much more to come...
Longtime Stansberry & Associates readers know we think the "big picture" is favorable for health care. Aging Baby Boomers will keep demand for health services high... And "Obamacare" could produce even more demand.
That's great news for the small, speculative biotechs seeking the next great blockbuster drug. But it's also great news for the Big Pharma companies and their stable of treatments... health insurers... pharmacy benefit managers (PBMs)... and anyone who has a piece of the health care pie.
Many of these stocks have already seen impressive moves higher. Take Eli Lilly (NYSE: LLY) for example. It's up 20% in the last six months. Mega blue-chip Pfizer is up 16%. Express Scripts, a major PBM, is up 14%. Big biotech Gilead Sciences is up 46%. But they're still reasonably priced. None of them is trading for more than 16 times forward earnings.
These are a few of the top names in the ProShares Ultra Health Care Fund (NSYE: RXL). This fund offers traders a "one click," leveraged way to profit on the big trend in health care.
In summer 2011, this fund suffered a big selloff (like most assets). But last August, it began a huge run higher. And last week, it hit an all-time high.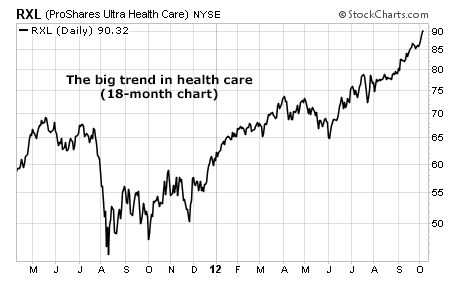 After such a big run, the sector is due for a pullback. But it's been in that "due for a pullback" condition for a few months now. When a strong trend like this takes hold, there's no saying how high it can go.
In sum, the sector is still relatively cheap. The trend has a strong demographic tailwind. Stay long health care. If you're not in yet, get long.
Good trading,
Amber Lee Mason and Brian Hunt