Most companies wish they had Apple's problems.
Apple is the largest technology company in the world. Its signature products include the iPhone, iPad tablet, Mac computer, and iPod music player. Almost every product is a top-seller.
Investors have done well holding on to Apple shares over the years. Today, the tech giant has grown its market cap to over $625 billion. To put this number in perspective, Apple's market cap is larger than Microsoft, Intel, Cisco, EMC, and Facebook combined.
Recently, Apple announced it sold 5 million units of its iPhone 5 in three days. For 99.9% of companies, selling 5 million units of a product with an average selling price of $600 would be a remarkable achievement. For Apple, it was a disappointment.
And that presents a good buying opportunity...
His argument is there's no one left to buy.
At least 40 brokerage firms cover Apple's stock. Yet there is not a single "sell" rating among those brokerage firms. There is only one "hold" recommendation. All the rest are either "buy" or "strong buy."
If the brokerage clients are taking their broker's advice, they have all bought Apple. At this point, there is basically no one left to buy among their clients – no new source of demand for Apple stock to push it higher.
It's a good point. I usually bet against "loved" stocks. But analysts have had mostly "buy" ratings on Apple for the past two years, and shares are up 125%.
Now... it's true expectations were too high ahead of the iPhone release. Analysts were expecting much higher "initial" sales – in the range of 8 million to 10 million iPhones. Sales came in below forecasts due to supply constraints. Apple could not produce enough iPhones to meet demand.
The "disappointment" pushed the stock down about 6%.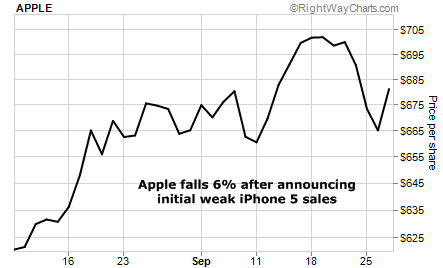 Looking at the bigger picture, the 5 million number is meaningless. I expect Apple to sell north of 250 million of its iPhone 5 over the next 18 months.
According to investment firm Jefferies, more than 600 million global smartphone subscribers will be coming out of their contracts over the next 15 months.
Most wireless subscribers coming out of a mobile phone contract look to upgrade their mobile phones. Since the iPhone 5 is widely considered the best smartphone money can buy, I'm sure Apple can capture a large piece of this market.
But this data point explains only a small part of the iPhone megatrend.
According to my friends at tech gadget site iFixit, the iPhone 5 is equipped with a Qualcomm MDM9615 chip. This new chip supports LTE (long-term evolution) technology. LTE is simply an upgrade from 3G – which provides faster speeds for downloads and video usage through your mobile phone.
This special chip also supports China Mobile's 3G network... and China Mobile has over 700 million wireless subscribers. Most of these subscribers are just beginning to upgrade to 3G, along with the subscribers in the other 99 countries where Apple plans to launch its new iPhone in the next 80 days.
Apple and China Mobile will have to work out pricing issues. Plus, not every one of these subscribers can afford an iPhone. However, if Apple can capture just 10% of this market, its iPhone sales (in terms of units) would jump 60% just from China demand alone.
The iPhone accounted for 45% of Apple's revenue last quarter. Apple is also releasing a new iPad tablet in early 2013 – and is expected to launch a new television called iTV sometime in the next 12 months. The late Steve Jobs said this would be Apple's next revolutionary product.
In short, it would be almost impossible for Apple not to grow its earnings by at least 20% annually over the next two years. After subtracting the $100 billion in cash on the company's balance sheet, it's incredibly cheap. It's trading at 10 times forward earnings.
Steve might disagree... but I suggest buying Apple at current levels. I don't see the stock trading below the $700 level for much longer.
Good investing,
Frank Curzio