Most people didn't notice it... but gold reached its all-time high this month.
You just had to be European to feel the impact...
Regular Stansberry & Associates readers know we like to say, "There are always two sides to a price." On the one side, there is the product, service, or asset. On the other, you have the "measuring unit" being used – like dollars, yen, euros, etc. Knowing this lets you see things others don't. And it will lead you to start answering questions like, "Did oil rise today?" with "Rise relative to what?"
As you can see from the chart below, when you look at a ratio of the gold price versus euros... gold is rising. In fact, it's rising so much that it's back to its all-time high (reached in 2011)... when priced in euros. The precious metal is at an all-time high in the eyes of a citizen who uses the currency of the world's largest economic zone (the European Union).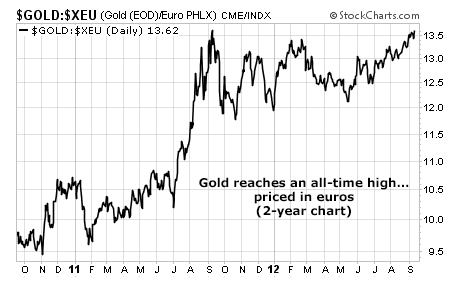 The price action comes at the same time as European Central Bank Chairman Mario Draghi's proposal to engage in unlimited bond purchases in the European Union. Mario knows that firing up the printing press is Europe's only way out of its massive debts and unfunded obligations.
Gold, the only currency that cannot be debased by men like Draghi, continues to rise against "debaseable" paper currencies. Stay long gold.
As we've said for years, you can't solve a debt problem by creating more debt. It can boost markets... sometimes for years. But eventually, the fundamental economic issues (like unemployment) will overpower monetary stimulus.
As legendary speculator Jim Rogers said on CNBC this week, the European monetary union will eventually pay a "terrible price" for the way it's handled economic problems.
"These guys have been saying the same old garbage for a long time. It's not a game-changer. It's good for the market for maybe a month," Rogers said. "The debt keeps going higher and higher, and eventually we're all going to pay a terrible price."
Rogers says the easing will only goose markets for a few months... We think this latest round of easing (especially when the Federal Reserve steps in) could boost markets even longer... As the old adage goes, markets can stay irrational longer than you can stay solvent.
All this money printing will eventually lead to inflation. And the constant debasement of global currencies will force more money into precious metals.
As we showed you above, we're already seeing prices move higher in euro terms. The same is true in dollar terms...
Since the beginning of August, gold rose from $1,599 an ounce to around $1,775 today – an 11% increase. Silver is up from $27.87 an ounce to $34.67 over the same time period – a 24% rise.
The big gold stock fund (GDX) is up 22% since then.
On July 31, Jeff Clark sent an urgent update to his
S&A Short Report
readers saying silver was about to break to the upside...
Yesterday, silver popped above the down-trending resistance line. That's an upside breakout... and it brings the next resistance level at about $30 per ounce into play. It's not a guaranteed move, though. Nothing in the markets is ever guaranteed. But the odds have shifted in favor of the silver bulls.
If silver can add to yesterday's gains – or at least not drop back into the triangle pattern – we should see higher silver prices for the next several weeks.
Jeff's readers made 102% on the silver move, by trading options on a
silver producer
.
And in the
S&A Resource Report
, editor Matt Badiali showed us another buy signal for silver...
This rare buy signal came from tracking the "smart money" in silver... by betting with large, commercial silver interests and against hedge funds that typically get very bearish at market bottoms.
As I explained... we'd just hit a rare extreme in bearishness among the "noncommercial" hedge-fund traders. We'd hit this extreme five other times during the last 10 years... And each was followed by a big rally in silver...
Matt's readers are already up nearly 30% on the stock he recommended in August...
In addition to the bullish macro setup for silver, one of the world's best silver investors – resource billionaire Eric Sprott – says the world is actually running out of the metal. We discussed Sprott's views in February 2011...
Sprott says aggregate investment demand for silver between 2000 and 2009 was 293.8 million ounces (according to the GFMS, the world's foremost precious metals consultancy). Using his own numbers, Sprott compiles the silver holdings for seven large investors, including himself, iShares Silver Trust, ZKB, GoldMoney, etc.
Just those seven entities own 519.6 million ounces of silver... That's 225.8 million missing ounces. And again... That's only seven investors. It doesn't include central banks, individuals, hedge funds, etc.
It's obvious, as Sprott notes, silver data has been "very, very misstated." Sprott ends his speech saying, "There's $22 billion of silver available in the world, of which the ETFs already own half, and between you guys and us we probably own the other half... Which means there's nothing left." – February 24, 2011 S&A Digest
You can profit from the rise in silver several ways... You can buy silver bullion or silver-related securities (stocks or exchange-traded funds focused on the metal). But
Retirement Millionaire
editor Dr. David Eifrig found the most interesting way to profit from silver...
He's discovered that some banks around the country have real, physical silver and are distributing it to retail clients... When you find it, you'll pay a large discount to market prices. Doc investigated this situation for more than three months. In fact, his research team was able to get five silver coins from a bank a few blocks from our Baltimore offices.
And we just heard from one of Doc's readers...
I recently ignored the naysayers and bought a one-year subscription to Doc Eifrig's Retirement Millionaire newsletter. I then proceeded to use the method he describes to legally extract almost $1400 in silver from my local bank in less than 5 days. And the bank thanked me! – Paid-up subscriber R.S.
Lots of folks thought it was too good to be true when we told them how you can walk into your bank and walk out with physical silver. But many of our readers are taking advantage of this idea to make quick, easy money. To learn more about how you can get real, hold-in-your-hand silver from your local bank,
click here
...
Regards,
S&A Research