Four months ago, I started to pound the table on stocks...
While most of the talking heads in the media spoke of the massive debt crisis in Europe and the huge slowdown in China and U.S. growth, I told you to buy stocks at dirt-cheap prices.
It was the right call... The S&P 500 is up 11% since May. In many cases, small-cap stocks are up even more. I'm still bullish on stocks over the next 12-18 months. But for now... it's time to take profits. Let me explain...
Sell in May and go away... It's an old cliché, but it's usually true. Decades of research show investors are better off avoiding stocks from May through September.
Historically, stocks tend to underperform during this period. In 2010, for example, the S&P 500 fell 13%, and in 2011, it fell 15%. At one point this past May, stocks were down 11 of 13 days. It seemed we were on our way to another huge pullback...
But then I told you about another critical indicator – one that most investors overlook...
It's called the election-year indicator.
June, July, and August – the summer months, which are normally the weakest during the "sell in May" trend – tend to be the strongest performers during an election year.
Dating back to 1928, stocks have jumped 11% on average from January to December during election years. That's why I said to buy stocks on the pullback in May.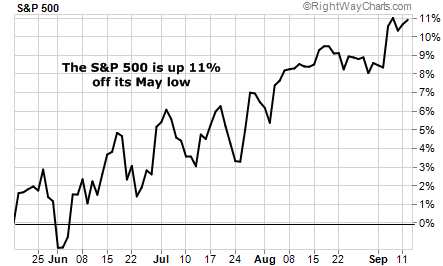 Since then, the S&P 500 is up more than 10%. That's a huge move in large-cap stocks in such a short period. Small-cap stocks fared even better – up roughly 15%.
I used the opportunity in May to tell my subscribers to buy shares of natural gas engine-maker Westport Innovations (NASDAQ:
WPRT
) and silver producer First Majestic Silver (NYSE: AG). A few months later, they are up 40%-plus.
It's time to take some of those profits off the table.
Today, stocks are closer to fair value. The S&P 500 is trading at 15 times earnings after the huge surge higher. That's right around its historical average, which means it's not cheap. Last month's jobs and manufacturing numbers fell short of expectations. Plus, most of the stimulus measures expected from the Federal Reserve and Europe to help grow these economies seem mostly priced in to stocks.
That's why it's smart to take some profits here. But I don't recommend selling all your stocks. I don't see a massive correction on the horizon. Stocks have plenty of upside through next year...
We are seeing a major rebound in the housing market. Retail sales bounced back over the summer. Corporate balance sheets have never been stronger. They hold $1.2 trillion in cash. That's the most in the history of the markets. And most analysts and economists have low expectations for earnings and economic growth in 2013. That's positive from a contrarian point of view.
With interest rates near record-lows, stocks are an excellent asset class for investors to put their cash over the long term. But I believe we'll see a 5%-7% pullback over the next few weeks.
If you bought any stocks near the summer bottom for a quick trade, it's a good idea to sell now and take profits. This pullback will be healthy for the markets... And taking profits here will give us an opportunity to buy some of our favorite small-cap stocks at a discount soon. But I don't see a disaster on the horizon. It's still a good idea to hold your long-term positions.
Good investing,
Frank Curzio