In July, giant coal miner Patriot Coal declared bankruptcy.
The company was the 11th-largest coal producer in the U.S. It had $3.8 billion in assets when it filed for bankruptcy protection.
And it won't be the last...
A structural shift in the coal market doomed the company. It will likely take down some other major coal miners before it's over. Here's the story...
As Growth Stock Wire readers know, natural gas prices have seen a huge drop over the last year or so. New drilling technology has unlocked massive new supplies. Since early 2011, natural gas prices are down over 40%.
That's terrible news for coal producers. You see, natural gas competes with coal as a fuel for electric power. And these days, it's cheaper to burn gas to produce energy than it is to burn coal.
Natural gas costs about $20.30 per megawatt hour. Appalachian coal – which is high-quality, low-sulfur coal from the Eastern U.S. – costs about $26.50 per megawatt hour... a 30% premium.
In 2003, natural gas made up 17% of electricity generation, while coal made up 51%. Now, natural gas and coal are producing equal shares of electric power.
In June, the Energy Information Administration (EIA) reported:
Amid historically low natural gas prices and the warmest March ever recorded in much of the United States, coal's share of total net generation dropped to 34% – the lowest level since at least January 1973 (the earliest date for which EIA has monthly statistics).
Here's another way to read that: Domestic coal miners who rely on electric power plants are going to go extinct. This summer, power demand soared, yet coal's contribution fell.
As a result of this shift, energy producers burned 10% less coal – or about 8 million fewer tons – in June 2012 than they did in June 2011.
In the chart below, you can see that reduced demand is crushing coal prices...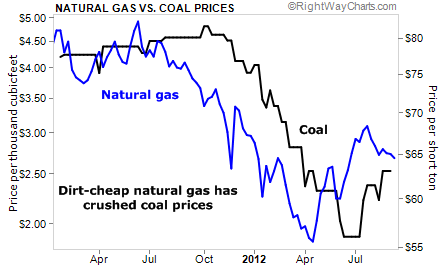 This is high-quality Appalachian coal. And its price fell 31% from October to June.
Profit margins for coal producers are getting tight. In 2008, Alpha Natural Resources made $19 per ton of coal it produced. Last year, that number dropped to $11 per ton. Giant miner Peabody Coal's profits were under $6 per ton in 2011.
If coal prices continue to fall, more U.S. coal producers will go out of business. Here's a quick look at the largest names in the industry. I wouldn't hold any of them right now:
| | | |
| --- | --- | --- |
| Company | Market Value | Coal Production (Tons) |
| | $6.4 billion | 227.5 million |
| Arch Coal | $1.4 billion | 151.8 million |
| Alpha Natural | $1.5 billion | 102.3 million |
| Cloud Peak Energy | $1.1 billion | 97.2 million |
| CONSOL Energy | $7.1 billion | 62.6 million |
This group will be in "survival of the fittest" mode for the next couple years. We can count on consolidation and bankruptcies. These stocks have suffered big falls over the past year. But the severe headwinds facing them ensure they won't be getting back up any time soon.
Good investing,
Matt Badiali