It's boom times for gold-royalty businesses right now...
"Royalty" companies don't mine any gold or silver themselves. Instead, they finance lots of early-stage mining projects. They earn royalty payments on mine production if things work out. It's a safer, more diversified way to invest in the gold-mining business, rather than owning a company focused on one big strike.
We've mentioned big royalty firm Royal Gold (NASDAQ:
RGLD
) as a way to take advantage of this idea. The stock is a holding in several Stansberry & Associates newsletters. Royal Gold gets a "piece of the pie" from productive gold mines around the world.
This week, Royal Gold struck an all-time high. With gold advancing past the $1,700 per ounce level (and sitting 55% higher than 2010 levels), Royal Gold's revenue streams are growing larger and larger. The new share price high is impressive when you consider that the overall gold-stock sector is having a weak 2012. The benchmark
gold-stock index
is down 8% this year.
This difference in returns is a good demonstration of how much better the royalty business is than conventional mining.
Royalty companies
have more in common with simple, well-run banks than they do with conventional mining firms.
This idea is so important, we included it in our "World's Greatest Investment Ideas" interview series, which is a collection of educational interviews our sister site
The Daily Crux
conducts with our most knowledgeable contacts and analysts at S&A. This royalty interview is with John Doody, one of the world's top gold-investment experts.
You can access it for free here
.
We've spilled a lot of ink detailing the incredible boom in U.S. oil and gas production. The new technologies of horizontal drilling and hydraulic fracturing have allowed us to unlock huge amounts of hydrocarbons from shale fields that lie underneath much of the country.
Because of these new technologies, U.S. natural gas production is at an all-time high. U.S. crude oil production is at its highest level in more than two decades. It's expected to hit an all-time high by 2017. Energy imports as a percentage of total usage are plunging.
S&A founder Porter Stansberry believes this massive new flow of oil and gas is so important, he has called it "the most important economic event of our lifetimes." Our booming natural gas supply is lowering manufacturing costs (because of lower electricity costs and lower raw material costs). It's becoming a big economic advantage. You can read more of Porter's commentary
here
and
here
.
Natural gas and coal are both major fuels for electricity generation. Thus, as our natural gas supply soars and prices stay low, it's brutal for coal prices and coal stocks.
You can see the effect in this two-year chart of the big coal exchange-traded fund, the Market Vectors Coal Fund (KOL). It has fallen 56% from its 2011 high.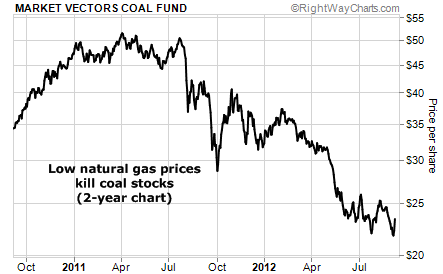 As the editor of
Extreme Value
, S&A's only service solely dedicated to value investing, I (Dan Ferris) have always been curious about the answer to one question: "What's the most valuable type of business or asset you can own?"
Attempting to answer this question quickly led me to the conclusion that intangible assets are far more valuable than tangible ones.
Take a simple example... Apple is the most valuable public company in the world. Why? Is it because its products can be melted down and sold for $1,000? No. Apple's wares are the most valuable consumer products in the world because of the experience, relationships, and plain-old smarts of the folks who create them.
On top of all that... Apple has created an allure around its brand that allows it to charge premium prices. It designs products with human desires and feelings in mind. Other types of MP3 music players, smartphones, and tablet computers cost a lot less and do everything Apple's do. But people are willing to pay more because they like the feeling Apple products give them.
Quite simply, Apple products make them feel cool. And "feeling cool" turns out to be worth quite a lot. In the last four quarters, Apple generated more than $45 billion of free cash flow.
So... the most valuable type of asset – and the best vehicle for compounding wealth at high rates of return for a long, long time – is a business that sells a highly valuable and desirable intangible.
I've found just such a company for my
Extreme Value
subscribers...
In the September issue of Extreme Value (out yesterday)... I recommended one of the world's truly great businesses. I've been watching this company for years. And it had always been too expensive to recommend, until now...
It's not Apple... But like Apple, its business is built around knowledge and relationships. Without giving too much away... here's a little taste of the wealth-generating power of this business...
It consistently generates huge returns on capital...
It gushes free cash flow and requires little reinvestment to keep it growing at a double-digit annual rate...
It has raised its dividend every year for almost two decades...
It has no debt and more than $1 billion in cash...
In short, this is my dream business. If I could only own one business for the rest of my life, this might be it.
The last thing I expected to do this month in
Extreme Value
was recommend a new stock. I'm insanely picky about adding new stocks to the portfolio. The back page of
Extreme Value
is like the most exclusive club on the block. And I'm the 300-pound bouncer out front with strict orders to keep out the riff-raff. I've only recommended two stocks in
Extreme Value
all year.
This one-of-a-kind company is one of the few that can make it past the bouncer. It dominates its industry in two important ways that will hold the competition at bay and keep it in the No. 1 spot for a long time.
It's one of the greatest wealth-generators on the planet... It's like a bank account that safely triples your money every 10 years.
And the price is finally right. This business normally trades at sky-high earnings multiples because everyone knows it's highly valuable. But now, investors have become skeptical about the global economy... the 2012 presidential election... rising taxes... the European crisis... and China's economic slowdown...
So the valuation has fallen to its lowest level in 15 years. Investors don't understand how none of this matters. This business will seem like the greatest bargain on Earth in another couple years.
If you want to get past the red velvet rope and learn more about the wonderful wealth-compounding machine I just described,
try a subscription to Extreme Value here
. (It won't take you to a long promotional video.)
Regards,
S&A Research