Eric Sprott says silver prices are going to $100.
Sprott is a legend in the resource industry. Many of his clients have become wealthy listening to his advice. He made a similar "bold" forecast on gold about 10 years ago – when the price was $250 an ounce. Today, gold trades near $1,700 an ounce, or 580% higher.
Today, Sprott believes silver prices can follow a similar pattern to gold. At roughly $32 an ounce, silver prices would have to triple to reach his forecast.
And that would mean huge profits for silver producers...
Let's say Sprott is even half-right. If silver hits $50 an ounce, silver companies would see their revenues jump more than 50% from today's levels.
That's why my advice four months ago was to
start buying silver producers
. The three names I mentioned were Silver Standard (SSRI), Endeavour Silver (EXK), and Fortuna Silver (FVI on the Toronto exchange).
It's been a wild ride, but these stocks are up an average of 17% since I wrote about them. That's roughly 14% higher than the S&P 500 index over the same time...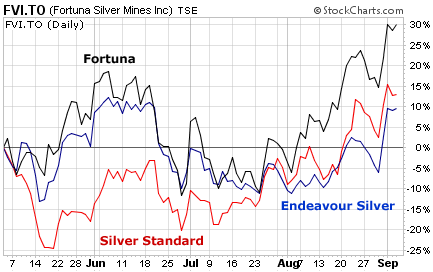 If silver prices continue rising, I'm sure these three producers will continue outperforming the markets. Another silver producer that could see even bigger gains is First Majestic (AG). I added this company to my Phase 1 Investor newsletter in May. Subscribers are up nearly 30%.
First Majestic is one of the largest silver-producing companies in the world. And production is expected to double over the next two years to over 14 million ounces. It's also one of the lowest-cost producers, with total cash costs under $9 per ounce.
Even after the strong move higher, shares trade at just 11 times forward earnings. The company also has a strong balance sheet – with over $60 million in net cash – and one of the top management teams in the industry.
All four of these stocks still have upside from today's levels...
Looking at fundamentals, most of the demand for silver comes from industrial usage. Silver is found in electronic products like mobile phones, tablets, and computers. This industry is booming right now with iPads and iPhones flying off the shelves. Plus, these devices have short life cycles. That means they need to be replaced every 18 months or so.
Coinage accounts for about 25% of all silver demand. In August, demand for American Silver Eagle bullion coins surged. Over 2.87 million coins were sold last month. To put this number in perspective, it was the second-best August in the 26-year history of the American Silver Eagle program.
The technical picture looks good, as well. Silver prices just broke through their 200-day moving average a few days ago. That's a widely used measure of uptrends. As long as silver is in a strong uptrend, it's likely these silver producers will be, too.
Good investing,
Frank Curzio