For the past month, we've shown you how oil stocks in general were in an overbought condition... and vulnerable to a sharp, short-term correction.
We based our thesis on one of Jeff Clark's favorite indicators, the bullish percent index. This index measures overbought/oversold conditions in a sector.
When a sector reaches an extreme oversold condition, it's due for a sharp rally. When a sector reaches an extreme overbought condition, it's vulnerable to a sharp correction. It's just part of the ups and downs of the stock market.
Over the past several trading sessions, our advice has proved to be right on. Below is a six-month chart of big
oil services stock
Schlumberger (SLB). It has suffered the short-term decline we expected.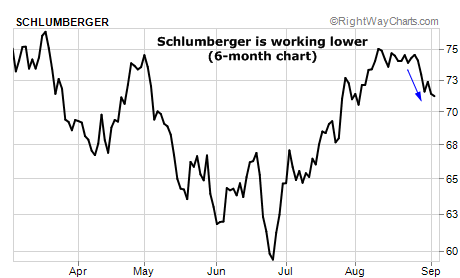 It's not just Schlumberger declining. An inverse oil fund that Jeff Clark recently recommended an option trade on has bottomed around $8.25 per share... and is now working higher. (Remember, inverse funds rise in value as a sector falls.)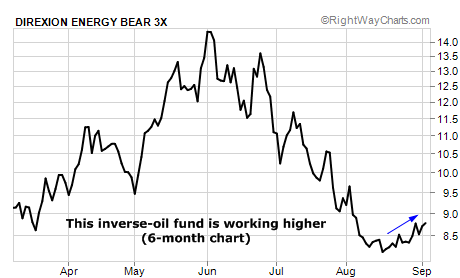 If you took our advice, you're starting to make money on this trade. But this sector enjoyed a huge run from late June to early August – Schlumberger, for instance, gained 28% in less than two months – and it still has plenty of short-term gains to give back.
So if you're still short, congratulations... you're starting to make money... And you can expect more gains to come.
Regards,
Amber Lee Mason and Brian Hunt