It's official: The energy sector just flashed a "sell" signal.
That "something a little worse" looks like it's just arrived...
From the October 2011 bottom to its peak earlier this year, the energy sector (measured by the S&P 500 Energy Sector Index) rallied more than 30%. But in February, oil prices began to plummet. And the sector gave up more than two-thirds of its gains. Since early June, however, the sector has rebounded.
Now, it's stretched to the upside.
You can tell by looking at the sector's "bullish percent index." The BPI measures overbought and oversold conditions. When it climbs over 80, it indicates a sector has gotten too far stretched to the upside. And earlier this month, the energy sector's BPI climbed over 80.
The "official" sell signal doesn't come, however, until the BPI turns down... which it just did.
Take a look at the charts below. The top chart tracks the S&P Energy Index, which holds all the energy stocks that are also part of the S&P 500 (including the "biggies" like Exxon and Schlumberger). The bottom chart is the BPI for the sector.
As you can see, when the BPI turns down from a peak over 80, the oil sector drops.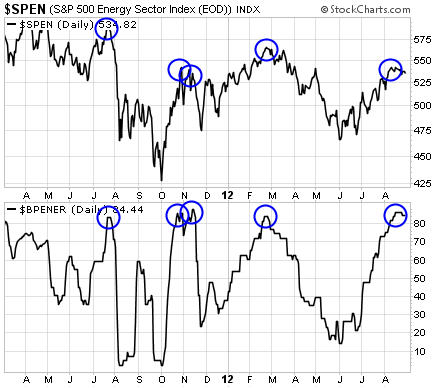 There are a couple ways to trade this sell signal...
One possibility is owning a leveraged short fund, like the ProShares UltraShort Oil & Gas Fund (DUG). The last time oil stocks suffered a decline from overbought levels, DUG soared from $22 to $30 (a 36% gain) in just a few months. But be careful here. This fund doesn't "track" well over the long term. And it's volatile... So it's only for short-term trades and experienced traders.
Another trade is shorting an oil-services stock with plenty of volume, like the giant Schlumberger (SLB). Shares are down more than 4% over the last couple weeks... and look poised for more downside.
But the best move for conservative investors and traders is to simply avoid making new buys in the sector. It's likely we'll see things get a little worse for oil stocks over the coming months.
Good trading,
Amber Lee Mason and Brian Hunt