It's just about time for the president to chastise the evil speculators and push gas prices lower once again.
It was back in April when the president last saved us from
rising gas prices
. He pointed a finger at the speculators and blamed them for America's pain at the pump. He threatened more regulation to curb speculation. He promised no excessive profiteering on his watch.
And it worked...
The spot price of unleaded gasoline peaked at $3.40 per gallon in early April, then declined to as low as $2.45 per gallon by the end of June.
Oil stocks fell, too. In fact, the AMEX Oil Index (the XOI) dropped almost 20% between May and July.
Cynics might argue there's a seasonal tendency for gas prices to fall in early summer, and for oil stocks to slump. After all, it has happened in six of the past seven years. But it may not have happened this year if the president didn't point his finger and force the speculators to run for cover.
But speculators are like sharks. Once they've found a good place to feed, they tend to return whenever they get hungry. And the sharks are hungry again. Just look at this chart...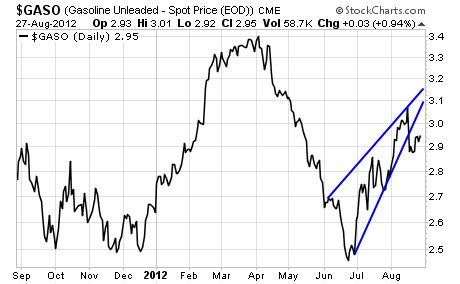 Gas prices are up 20% since the end of June. We could blame it on explosions at a couple California gasoline refineries. Or the threat of hurricanes shutting down some of our Gulf Coast oil rigs. We might even look at the seasonal tendencies of gas prices and notice they tend to rise in the waning weeks of summer – which they have for six of the past seven years.
Of course, we all know it's really the work of the evil speculators. So it's time once again to gently coax the president back in front of the television cameras. Maybe this time he can point two fingers at the evil speculators. Perhaps he can even threaten to open up the strategic oil reserve – whatever it takes to make the bearish rising-wedge on the chart (the blue lines) play out and force gas prices lower – just as they've done six of the past seven years.
Gas prices are going to come down. So if you're an evil oil market speculator, you may want to go into hiding for the next few weeks. Better yet... since oil stocks tend to trade in sync with gasoline prices, speculators might profit by betting against them... at least between now and the election.
Best regards and good trading,
Jeff Clark