I see important "signs of life" in the U.S. economy. In fact... I think the strength of our economy over the next 18-24 months is going to shock just about everyone on Wall Street and in Washington.
I realize... a lot of my subscribers spend more time watching CNBC than they probably should. As a result, you might totally disagree with this essay. But I hope you'll read it anyway... I've included something at the end that's really important and requires your attention...
From where I sit, a strong rebound in the U.S. economy is inevitable. How could anyone be surprised? We've been priming the pump for so long with enormous fiscal deficits ($1.5 trillion per year!) and "quantitative easing" – aka "money printing" – that a big economic rebound was bound to happen, sooner or later.
We've averaged $1.5 trillion a year in federal deficit spending since OBAMA! was elected. That's about 41 cents out of every dollar the government spends. These new debts will total more than $6 trillion by the end of OBAMA!'s first term. It's hard for most people to understand what this means because the numbers are so big, they simply don't compute.
Think about it this way... That $6 trillion OBAMA! has borrowed is not only more money than any other president has ever borrowed before...
But it's more money than every president has borrowed combined
. When OBAMA! took office in 2008, the federal government was paying interest on $5.3 trillion in debt held by the public. By the end of this year, that amount will reach $11.3 trillion.
No one else will tell you this... But the OBAMA! administration has doubled the actual outstanding federal government debts held by the public. So not only has the nominal amount of debt soared, but it's also increasing at an all-time record rate. Our country, from a fiscal standpoint, is completely out of control. We're led by a bunch of monkeys, who can't even count bananas.
Think OBAMA! will be re-elected? Well, let's see... The U.S. has roughly 100 million households to which OBAMA!'s deficit spending alone has added $60,000 in federal deficit spending per family. For the average financially illiterate citizen, this seems like manna from heaven.
As one woman said at an OBAMA! rally... "I won't have to worry about putting gas in my car; I won't have to worry about paying my mortgage... If I help [Obama], he's gonna help me."
No president in history has ever delivered more economic benefits to more people who didn't pay for any of them. Who wouldn't vote for that guy again?
What's the inevitable result of shoveling paper money into a consumer-led economy? Hmmm... I wonder what's going to happen...
Here's a hint. Look at the chart below. It shows the performance of three leading "consumption" product companies: Comcast, Disney, and Toll Brothers. These are stocks that
shouldn't
do well in a recession. They're based on selling completely discretionary products. Stuff nobody
needs
, but everybody
wants
.
Comcast's traditional cable TV business continues to slowly die. It has been losing TV subscribers every quarter for the last 30 quarters. But its high-speed bandwidth business is booming. Nobody needs high-speed bandwidth, but everyone wants it.
Disney's results have been bolstered by attendance at its theme parks, where a family of four will spend at least $1,000 per day on lodging, admission, entertainment, and gifts. Nobody needs a trip to Disney World, but everyone wants it.
Toll Brothers is a national homebuilder that specializes in huge "McMansion" neighborhoods. Nobody needs a 6,000-square-foot house with dual Cinderella staircases... but some folks want them.
Just look at the chart. In the last year, Disney is up 50%, Comcast is up 65%, and Toll Brothers (which was left for dead after the housing collapse) is up more than 110%.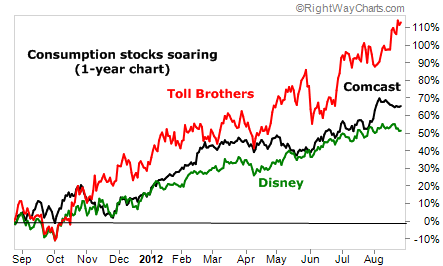 But as revealing as this chart might be... the theme becomes even more interesting when you extend the time frame to include the bear market of 2008. The five-year chart is below. You can see all these stocks recently notched new, five-year highs.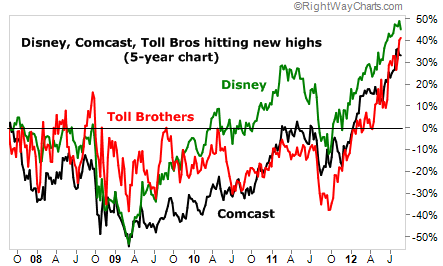 Something doesn't add up, does it? According to Washington, our economy is still so crippled by unemployment and a recession that we've got to spend
trillions
each year in borrowed money just to prevent another Great Depression. Meanwhile, three of the country's most unnecessary (but loved) consumer products companies are setting new-high stock prices. Which indicator do you think is telling the truth?
What we're about to witness is one of the most serious problems with the idea of Keynesian economic policy. Keynes, of course, famously promoted the idea that governments should attempt to moderate the business cycle by spending heavily during recessions. The problem is, once big businesses get their hands on some of the government's easy money, they never let go of it. Likewise, once the voters get a taste of voting themselves the Treasury, it's awfully hard to get them to come off the public teat.
My suggestions? The first one is obvious: Don't be a creditor to the world's largest debtor – the U.S. government. Instead, you can sell the U.S. credit short by shorting iShares Barclays 20+ Year Treasury Bond Fund (TLT) – an exchange-traded fund that holds 20-year-plus U.S. government bonds.
Next... you might want to buy the kind of companies I mentioned above – the shares of companies that offer "reachable" luxury to the mass market.
I'd pay special attention to Comcast and the other cable companies, which seem to have finally found the right business model. Most people on Wall Street still heavily discount the earnings of cable companies because they believe all the money will simply be reinvested into even more cable infrastructure.
For decades, none of the cable companies' "earnings" were actually distributed to shareholders via dividends or buybacks. If you study Comcast's numbers, you'll find that between 1987 and 2003, the company actually (on a net basis) returned zero capital to shareholders.
But... since the installation of fiber optics into their network (which greatly lowered maintenance costs), the entire financial condition of the companies has changed. Since 2004, Comcast has returned $21.6 billion to shareholders, in the form of cash dividends and share buybacks. On average, since 2004, Comcast has paid out 7% of its gross profit to shareholders. No, that doesn't put the company on the
capital-efficiency
leaderboard. But it's a vast improvement, something that Wall Street is only beginning to recognize.
Now... here's the important part I told you about above... the part that requires your attention. This is something that's critical for you to understand:
There's at least a chance this incredible blowout of paper-money-led economic growth WON'T lead to a financial catastrophe.
When I wrote my report on "The End of America" between 2006 and 2010, America HAD no real prospect of becoming a leading global energy producer. In fact, most people were predicting that we'd hit "peak oil" in America, meaning that our remaining supplies of oil were just about spent.
But... imagine if we discovered the equivalent of 20 new, Persian Gulf-sized oilfields in the United States. That's the one thing that could change our financial outlook... It's the one way we might continue to finance these colossal debts long enough to pay them off without a hyperinflation. No, that didn't seem likely to me five years ago. But that's exactly what's happened...
Over the last three years, U.S. oil companies have discovered roughly 20 new oilfields, each of which is likely to hold at least 20 billion barrels of oil – more than most Persian Gulf states.
No, these huge new oilfields are no guaranteed economic sinecure. Developing them will require hard work and sacrifice. And yes, politicians have plenty of ways they can destroy even this tremendous new resource. But I'm optimistic. I think
America's soaring oil and gas production
offers our nation a realistic way to end our trade deficits and finance the gaps in our government's budget...
if
we can finally get spending under control. This oil production will certainly give our economy a huge boost over the next decade.
I've spent the last year working on an extremely thorough presentation that tells you everything you need to know about the energy boom going on right now in America. Oil production in North Dakota is up 71% year over year and is now approaching 1 million barrels per day. These wells weren't producing anything three years ago. Similar production is coming out of
Texas' Eagle Ford region
. And the U.S. has more fields just like these where drilling is just getting started.
This is good news for our country... It's good news for your family... And it might be the investment breakthrough you need to finally achieve your financial goals. I can certainly tell you this research is the best work I've done in my career. It will give you a
tremendous
advantage as an investor.
This is the most important economic event of my life. America is on its way to being the world's largest energy producer and one of the largest energy exporters. Nobody expects this. But it will absolutely happen.
That's why I'm asking you for a favor. I can't recall ever asking you for anything like this before. But... if you've learned anything from me in today's essay, please, gather up your friends and your loved ones and
watch my presentation on the new American energy boom
.
Regards,
Porter Stansberry