Big Cheap Tech is breaking out to the upside... Are you onboard?
For nearly two years, we've encouraged readers to get interested in "Big Cheap Tech." When we say "
Big Cheap Tech
," we're talking about America's leaders in tech-related industries, like software, Internet infrastructure, and semiconductors.
As we've mentioned many times, most of the "dominators" in this space (like Microsoft, Cisco, and Intel) are cheap relative to their annual cash flows. Plus, these blue chips have huge cash piles on their balance sheets.
A good way to gauge this sector is with popular tech fund QQQ. This fund has large weightings in these dominant companies... like Intel, Apple, and Cisco. Like most assets, QQQ enjoyed a big rally to start the year. It declined during the spring... and spent several months "digesting" its loss.
But as you can see from the chart below, QQQ is breaking out to new highs.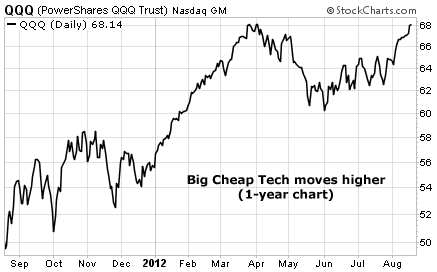 Remember... a "breakout" is simply the price at which an asset "breaks" into fresh price territory. It can come on the downside or the upside. Whatever the direction, no trend can start without one. And the trend here is up.
– Amber Lee Mason and Brian Hunt