There is a fundamental shift taking place in America's interstate fueling system.
It's similar to the one that took place in 1956. That's when President Dwight D. Eisenhower signed the Federal-Aid Highway Act of 1956 – a $25 billion authorization to construct the U.S. Interstate Highway System.
America began building the now-48,000-plus miles of high-speed roads that transformed the nation. The Interstate System slashed transportation time between major cities... sparked a boom in road travel... and created an American addiction to gasoline and diesel fuel.
Today, a similar "megatrend" is taking place. And there's one company at the forefront...
Longtime Growth Stock Wire readers have heard me talk about this megatrend many times over the past 12 months...
If the average heavy-duty truck covers 100,000 miles annually, at five miles per gallon, that equals 20,000 gallons per year in fuel. A $2 savings results in roughly $40,000 a year per truck. That would save Wal-Mart, which has a 7,000-truck fleet, $280 million a year on fuel costs.
And Clean Energy Fuels (CLNE) is the U.S. leader in supplying natural gas as a transportation fuel.
It supplies, owns, and operates about 300 fueling stations throughout the country. And the company has partnered up with some of the world's largest gas companies to build 150 natural-gas-fueling stations over the next 18 months.
Clean Energy has already secured a big chunk of the fleet market. Its customers include 6,000 transit buses, 3,300 garbage trucks, 2,400 taxis, and 1,700 shuttles (like airport vans). And about one-third of all city buses in the U.S. already run on natural gas.
But the company's stock is down nearly 40% from its March high. Take a look...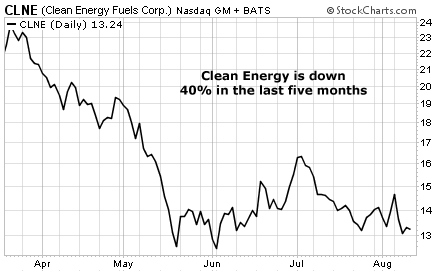 Over the past two quarters, Clean Energy has reported disappointing earnings. In short, since the company sells natural gas through its fueling stations, depressed natural gas prices over the past six months squeezed the company's margins 20%.
But natural gas has rebounded 50% off its lows in recent months. (And it's still much cheaper than diesel.) These prices should provide a short-term boost to revenue next quarter.
Longer term, aggressive investors could make five to 10 times their money buying Clean Energy shares on this pullback...
As I said earlier, major trucking fleets are switching their engines to natural gas from diesel. There are over three million heavy-duty trucks on the road in America (not including buses or garbage trucks). These trucks consume over 25 billion gallons of gasoline per year.
That amounts to roughly $50 billion each year in total cost savings if every heavy-duty truck in the U.S. switches to natural gas. And I believe most fleets will make the switch because the cost savings are too big to pass up.
If Clean Energy Fuels captures just 5% of the market in 10 years, its revenue would grow nearly 10-fold.
This sales increase only accounts for big trucks. Today, GM, Ford, and Chrysler are building pick-up trucks that are capable of running on natural gas. In fact, these automakers already make cars that run on the clean fuel. Since there are few fueling stations in the U.S. right now, they're producing most of these cars in Europe and Asia.
We are still years away before seeing natural-gas-fueling stations on every major highway in America. But most industry veterans, like legendary resource investors Rick Rule and Eric Sprott, believe it's only a matter of time before cars in this part of the world run on natural gas. Considering there are over 210 million cars on the road in the U.S., the long-term potential for Clean Energy Fuels is enormous.
Looking five to 10 years out in a market where stocks rise or fall 10% each day is difficult. But Apple and Amazon were trading at $10 (split adjusted) 10 years ago. Early investors who didn't get scared off by a weak six-month chart are probably multi-millionaires today.
If natural gas becomes an everyday transportation fuel – which I believe it eventually will – investors could make huge returns investing in Clean Energy Fuels. My advice is to take a position in the stock at current levels and forget you own it. In 10 years, you could be sitting on one of the premier energy companies in America.
Good investing,
Frank Curzio