We spent last week in western Canada for the Agora Financial Symposium. It's one of our industry's largest conferences, held in one of the world's greatest cities.
Longtime S&A readers know Vancouver is one of the world capitals of natural resource finance. A huge number of natural resource firms make their headquarters here, along with brokers, fund managers, and analysts.
The natural resource industry is one of the biggest "boom and bust" sectors in the world. Most resources – like copper, uranium, and oil – go through cycles of low prices, which spur increased use of the cheap commodity and decreased production. Those periods are followed by stretches of high prices, which spur increased production but also lead users to seek (cheaper) alternative resources.
The up cycles produce gains of hundreds – even thousands – of percent in natural resource stocks. The down cycles produce losses that can destroy businesses, investment funds, and individuals. The key here is to get into the booms early and avoid (or even short) the busts.
The natural resource industry is also a magnet that attracts liars, promoters, and frauds. Remember Mark Twain's classic definition of a gold mine as a "hole in the ground with a liar on top." Most people will do well to view mining investment as a professional football game. Fun to watch, but not worth getting in there and having a 250-pound linebacker knock off your head.
But just like the liar-and-fraud-filled Wall Street, the resource industry has its share of good guys. You want to trust your money with these guys. They can make investors hundreds and thousands of percent gains during the upswings. For example, during the 2010 bull move in resource stocks, Phase 1 Investor readers made more than 500% in the Canadian gold-exploration firm ATAC Resources. That kind of gain turns every $10,000 into $60,000.
These days, those types of rallies have been few and far between. Resource shares in general have endured a horrible 17-month bear market. Small firms, middle-sized firms, and giant firms have all been hammered. Back in 2011, I "sounded the alarm" at the beginning of this move in my
DailyWealth
Market Notes column. I noted
the weak price action in the S&P Metals & Mining fund (XME)
... and I noted
the terrible price action in Brazilian shares
. Brazil's economy is heavily levered to commodity production... so it's one of the best "pure play" commodity positions a trader can take.
My alert came at a good time. While we can gauge the price action in natural resources and natural resource shares in many ways... one of our favorite benchmarks is the S&P/TSX Venture Composite Index... called the "Venture." The Venture is sort of the "Dow Industrials of speculative resource stocks." It's a good gauge of the resource market.
As you can see from the chart below, the Venture enjoyed a huge rally off its 2009 crisis lows. This move culminated in a massive rally from mid-2010 to early 2011. The Venture ran from 1,400 to 2,400 (70%) in less than nine months. It then entered the aforementioned bear market.
This decline has taken the Venture below 1,200... a level we haven't seen since 2009. In response to the European crisis, the weak U.S. recovery, and the slowdown in China, investors have dumped assets seen as "risky"... or leveraged to global economic growth.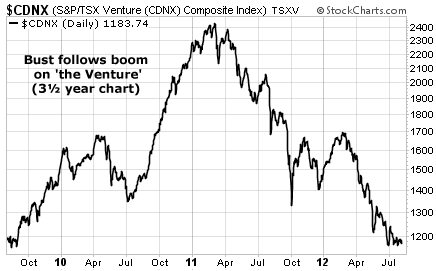 Remember... that decline in the Venture is the broad index. Many companies have fallen 80%-90%. Some have gone broke. Most are getting desperate for capital to keep operations going. This situation has our friends in the resource investment business very excited. Our friend and master resource investor Rick Rule, for instance, is one of the few people who can provide these small businesses with a substantial amount of capital.
With one side of the negotiation desperate and nearly broke and the other side patient and flush with cash... who do you think is going to come out ahead? We'll guess that Rick will prove once again that at the bottom of the market, "cash is king."
As you can see from the chart above, the Venture is in the pits. Share prices are deeply depressed. Companies are becoming desperate. There's no guarantee we're at the absolute bottom in resources. But if central bankers are able to "reflate" things for a few more years, these depressed resource shares could stage a huge rally. Contrarians take note... It's time to "nibble" in this sector. The smart, patient money is starting to pick up bargains.
We'd also like to remind you that we've conducted several great educational interviews with our best contacts, like top resource financier Rick Rule and top gold-stock analyst John Doody. To succeed in the boom-and-bust resource market, it's essential to keep these ideas in mind.
You can read Rick's interview on "hoarding"
here
.
You can read Rick's interview on resource cycles
here
.
You can read John's interview on royalty companies
here
.
And you can read my interview on "picks and shovels"
here
.
These interviews will give anyone a solid knowledge base to successfully operate in the resource market.
Regards,
Brian Hunt