Last Sunday, Bond King Bill Gross said something unusual on social-networking site Twitter.
Gross manages the world's largest bond fund – the $263 billion PIMCO Total Return Fund. He's one of the smartest bond investors on the planet. And right now, he's scared of U.S. Treasury bonds, the world's "safe haven" asset.
Gross has long been critical of the U.S. government's loose monetary policy and its eventual negative impact on bond prices. And last weekend, he "tweeted" – as posting on Twitter is known – that negative real interest rates will kill investors... He wrote... (Note: we've spelled out some of the shorthand commonly employed by Twitter users.)
With negative real interest rates out to 20 years in U.S. bond market, how will investors maintain purchasing power? Stocks maybe. Real assets better bet.
Negative interest rates occur when inflation is running higher than the so-called "risk-free" bond rate (Treasury yields). Right now, inflation is probably running around 4%... And that number likely will increase in the future. Meanwhile,
10-year Treasurys yield a record-low 1.4%
. In other words, if you hold Treasurys, you will lose 2.6% a year of "purchasing power."
Gross recommends holding real assets in lieu of bonds. Real assets are tangible goods... things like gold, oil, wheat, and real estate. Think about that for a minute... PIMCO is the world's largest bond investor. It makes money when people invest in its bond fund. It has more than $1 trillion in assets under management, most of it in bonds. Its Total Return Fund is the largest mutual fund in the world, with more than $260 billion in assets. And one of the guys who founded PIMCO is telling the whole world to ditch bonds for real assets.
The next question is which real asset you should hold... Steve Sjuggerud is
bullish on real estate
. He wrote about it in last week's
DailyWealth
. Steve says real estate is "dirt-cheap by any measure." You can get a mortgage at record-low rates (30-year mortgages are around 3.5%), and the uptrend in real estate is just beginning.
But not everyone has the means or desire to buy a house. Yes, there are proxies for housing in the stock market, but the real opportunity is in owning the physical properties.
So we turn to commodities...
Longtime readers know we're
bearish on oil
. Most investors think the European crisis and a Chinese slowdown will hurt oil prices. They will (and have). But we think there's a larger trend in play... The drilling happening right now in the shale-rock formations (in places like Texas'
Eagle Ford
and North Dakota's Bakken shales) will create a glut of domestic crude and slam prices.
And agricultural commodities are due for at least a short-term correction soon... Thanks to a U.S. drought, corn and other grain prices are near all-time highs.
That brings us to precious metals... In today's market, gold and silver are part of a small group of attractive assets. They're both trading down from their highs. Gold fell from its September 2011 high of $1,895 an ounce to just over $1,600 today. And silver fell from around $50 an ounce to $27 today.
But we think the metals are more attractive than ever. The time to buy precious metals is when the world's central banks are printing money. In our opinion, metals (not Treasurys) are the ultimate safe haven asset. They're insurance against the destruction of paper money – which governments continuously debase.
No fiat currency has succeeded throughout history. And today's paper money will be no different.
We're just beginning to see the bailout cash flow to Europe. And as Federal Reserve Chairman Ben Bernanke has repeatedly said, he stands ready to print more money should our economic recovery stall.
In addition to the macro trend for gold and silver,
S&A Short Report
editor Jeff Clark sees a short-term profit opportunity in the sector. He recently told readers silver is ready to break out to the upside. He wrote...
We're buying silver today. And the trade is purely technical. It's not that there aren't good, solid fundamental reasons for buying silver right here, anyway. After all, as a precious metal, silver is a store of value. Owning it is a good way to hedge against the inflationary money-printing activities of the world's central banks.
But central banks have been running the printing presses for the past year... and silver is down almost 50%. So maybe the fundamentals don't matter as much as the technicals. And it's the technicals that have created a terrific risk/reward setup. Take a look...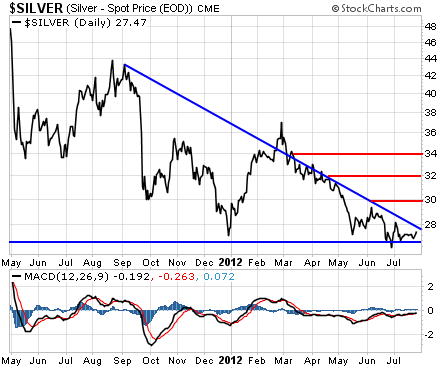 Silver has solid support at just above $26 per ounce. A break of that line would be bearish and would mean it's breaking to the downside... But on an upside breakout, silver has only modest resistance at about $30. Stronger resistance comes in around $32. That's $4.70 higher from where it is now. By buying silver today, we're risking $1.30 to make $4.70.
Prior to Thursday, the S&P 500 stock index had closed lower for three straight trading sessions. The Volatility Index (the "VIX") – which tracks the price of options and helps gauge levels of investor fear – is back below 18... still fairly complacent, but up sharply from its three-month low of 15.45 last Thursday.
And gold is finally starting to act as it should... The yellow metal jumped nearly 1.5% this week.
Of course, if the VIX is rising, it means people are paying more to buy options... And that means option traders will have more opportunity to capture fat premiums from their put sales – the kind Dr. David Eifrig recommends in his
Retirement Trader
service.
DailyWealth Trader
co-editors Amber Lee Mason and Brian Hunt noted last week that while the index is not at an "officially high" level of 30, its move up is creating some trading opportunities...
The downside of a climbing VIX, of course, is that the broad market is slumping. That makes pulling the trigger on new trades hard. But sticking with a couple simple rules will keep you safe and increase your chance of profiting...
First, only sell puts on the highest-quality companies. These include 12% Letter editor Dan Ferris' "World Dominating Dividend Growers," Retirement Millionaire editor Dr. David Eifrig's picks, and Porter Stansberry's "no risk" stocks. (You'll find retail giant Wal-Mart (WMT), software giant Microsoft (MSFT), and health care giant Johnson & Johnson (JNJ) on all three lists.)
Second, sell puts after one of these stocks suffers a big selloff. That will "wring" a lot of risk out of the trade... and increase the premium you collect for selling puts.
One World Dominator, computer networking giant Cisco, got crushed last Tuesday... The stock fell 6% after the company announced it would lay off 1,300 employees.
Cisco is cheap (at around 11 times trailing earnings). And it has more than $48 billion of cash on the balance sheet. Plus, it yields 2%. If you're looking for a put-selling candidate after the market rout, Cisco is a good place to start.
Selling puts is the most valuable trading strategy I know. It allows you to generate income, while naming the price you're willing to pay for world-class companies. If you stick to that strategy, it's among the safest ways to make profits from the stock market.
We know many subscribers will never
try selling puts
... and that's too bad. But if you're among those who are willing to set aside your fears and excuses ("They're too risky"... "It's too complicated"... "It's not for me"), we've prepared a video that explains this strategy and shows exactly how you can start generating hundreds or even thousands of dollars of income per month. If nothing else, at least watch this video... It's completely free. To watch it,
click here
...
Regards,
S&A Research