For the last few months, Growth Stock Wire readers have been following the "stealth biotech boom." Biotech stocks are enjoying a big uptrend... But you rarely see it mentioned in the mainstream press.
As traders, we give the sector plenty of attention. Biotech is one of the greatest "boom and bust" sectors known to man...
As we've explained before, the biotech sector shares many characteristics with the resource sector. Like mining exploration firms, many biotechs burn through cash in search of the "next big thing." When a firm strikes it rich, the returns can easily go into the thousands of percent.
For this reason, both sectors tend to draw in "hot money" every few years and go through huge, speculative booms... followed by big busts. Thus, the sector is a good friend to the speculator. Ride the booms and avoid (or even short) the busts, and you can make a fortune...
Starting last August, the biotech sector moved into "boom" mode. It gained about 50% in six months. After that run, it spent most of 2012 trading in what traders call a "box." (Famed trader Nicholas Darvas, author of
How I Made $2,000,000 in the Stock Market
, popularized the term.) The lower limits of the price range form the bottom of the box. The upper limits form the top.
As we showed you last month, the fund "broke the box" in mid-June... And as you can see in the chart below, it kept moving higher.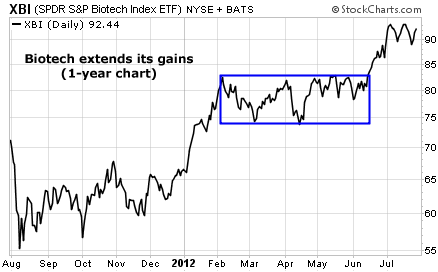 Since we last checked in, shares of XBI climbed more than 7% before easing back. But the Nasdaq Biotech Index is still near all-time highs. And there could be much more ahead. When a biotech boom gets going, it can really run.
Our colleague Steve Sjuggerud, who is long biotech in both his True Wealth and True Wealth Systems portfolios, recently pointed out: "From 1994 to its peak in 2000, the Nasdaq Biotech Index soared over 1,000%. Today, biotech stocks are back at 2000 levels. And we're making REAL MONEY."
You can buy individual biotech names to trade this trend. But selecting individual winners is a tough game... even for professionals.
Most folks are better off with investment funds that contain a broad basket of biotech names. XBI offers the most diverse exposure to both large- and small-cap biotech names. The Biotech iShares Fund (IBB) is the most widely owned biotech fund. It tracks the Nasdaq biotech index with minimal expenses.
It's volatile... but the trend is still up in biotech. And it could have a lot farther to run. As Steve likes to say, "If you catch just one biotech bull market in your lifetime, you may never have to work again."
Good trading,
Amber Lee Mason and Brian Hunt