The bears just scored a major win in "the great China debate"...
On the one hand, you have the bears – like master short-seller Jim Chanos and top hedge-fund manager Hugh Hendry – who say the country is a powder keg of government-directed malinvestment. These investors are predicting a "hard landing," where China's legendary growth slows sharply.
On the other, you have the optimists – like popular investor Jim Rogers. He and other China bulls say these fears are overhyped and overblown.
Traders have plenty at stake on the outcome. China is the world's "workshop"... and its largest consumer of commodities. If China has a big problem, the whole global asset market has a problem.
We've been monitoring just how big the problem might be with the Shanghai Composite Index. It tracks the biggest and most important public companies in China. You can think of it as the "Dow Industrials of China."
As you can see, the Shanghai Index suffered a big decline in late 2011. The index fell from a high of over 3,000 to a low of 2,148. Early this year, it attempted to rally off those lows. But this rally has failed.
On Monday, the Shanghai Index hit its lowest low in three years.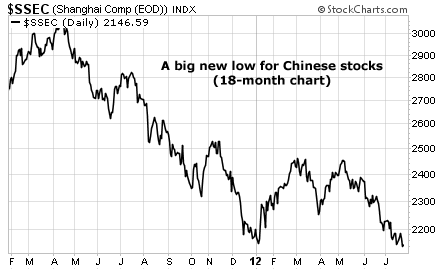 The big trend in the Shanghai has been down since late 2009. Earlier this year, it looked like that trend might reverse and prove China bulls right. But this latest "breakout" to the downside is a point in the bears' favor.
While this isn't a guarantee that the slowdown is turning into the much-predicted "hard landing," it's a good sign that things are getting worse over there. And it's one of the biggest things traders need to keep in mind right now.
Good trading,
Amber Lee Mason and Brian Hunt