U.S. bond prices have risen for the past 30 years... The 10-year Treasury now yields less than 1.5%. Most people buy bonds for income. And the yields they receive today are dismal. But investors continue rushing for the perceived safety of sovereign debt. (U.S. Treasurys are viewed as virtually risk-free – the ultimate safe-haven asset – since the dollar is the world's reserve currency.) People are scared and irrational.
Stocks are much cheaper than bonds today. And in many cases, offer better yields. (Blue chips like semiconductor giant Intel and giant cigarette-maker Altria yield 3.2% and 4.6%, respectively). But stocks have plenty of room for upside.
Bonds, on the other hand, are "zero bound." In other words, yields shouldn't go below zero since a negative yield would mean investors were literally paying to hold a borrowers debt. And since bond prices move in the opposite direction as the yield... a downside limit on bond yields should also constrain potential capital gains.
And with yields so low, bonds don't have much room for capital appreciation. As
"Bond King" Bill Gross
– who manages the world's largest mutual fund, the PIMCO Total Return Fund – wrote for the
Financial Times
in February:
What incentive does a U.S. bank have to extend maturity to a two- or three-year term when Treasury rates at that level of the curve are below the 25 basis points available to them overnight from the Fed? What incentive does PIMCO or banks have to buy five-year Treasuries at 75bp when the maximum upside capital gain is 2 per cent of par and the downside substantially more?
As Gross points out, bonds have far more downside (increasing yields) than upside today. Still, investors are pouring money into fixed income.
Currently, six countries have negative yields on government bonds maturing in two years or less – Germany, Denmark, Finland, Switzerland, the Netherlands, and Austria. (Denmark and Switzerland are outside of the European monetary union.)
And this week, investors accepted negative yields on two-year German bonds at the primary auction. The average yield on the 4.2 billion-euro bond sale was negative 0.06%.
Switzerland's two-year bond has the lowest yield at negative 0.55%. Why do investors pay to own these bonds when there's little room for capital appreciation?
Some strategists think it's a currency play... Investors will stomach a small, negative yield for the potential of currency appreciation should the euro disband (or should certain countries leave the euro). The money they're parking in government bonds would then be revalued with a stronger currency.
It's like hedge funds buying credit default swaps (insurance contracts on debt that pay out in case of default) leading up to the subprime crisis... It's a negative-carry trade, meaning losses are guaranteed, but finite. As we saw during the crisis (when hedge-fund managers like John Paulson made hundreds of percent), the upside can be huge.
Yields on government debt could always go lower – markets can stay irrational for a long time. But our money's on stocks. Take Dr. David "Doc" Eifrig's Big Pharma recommendations, for instance. Abbott Laboratories, Johnson & Johnson, Eli Lilly, and Pfizer all traded at 52-week highs this week. Doc has all but Pfizer in his
Retirement Millionaire
model portfolio.
DailyWealth Trader
co-editors Amber Lee Mason and Brian Hunt discussed the uptrend in these stocks in Wednesday's issue...
Over the past several months, we've been keeping tabs on Big Pharma. Like our colleague Dr. David Eifrig (editor of the outstanding Retirement Millionaire and Retirement Trader advisories), we think the "big picture" is favorable for the world's big drug makers.
Aging Baby Boomers will keep demand for drugs high... and allow Big Pharma to keep paying big dividends. Many stocks in the sector are cheap and pay dividend yields of 4%-6%. It's also important to note that "Obamacare" should produce extra demand for all types of health services... including Big Pharma's drugs.
As we've noted several times, these stocks are in a "slow and steady" uptrend. You can see it in shares of PJP, a health care-focused fund. Over the last two years, PJP is up 81%. You can also see it in one of Doc's favorite health care stocks, Eli Lilly (LLY).
A longtime Retirement Millionaire recommendation, Eli Lilly is the world's 10th-largest pharmaceutical company. It has a long history of producing major blockbuster drugs (like Cymbalta and Cialis). It's a stellar dividend-payer, yielding 4.5%. And shares have returned 22% in the past year, advancing in a smooth, "stair step" uptrend...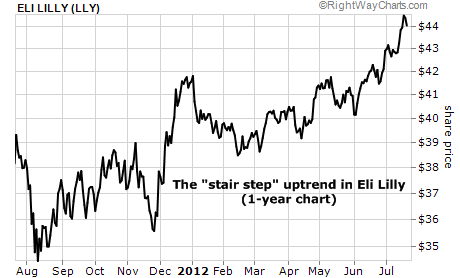 Doc's
Retirement Millionaire
portfolio is loaded with high-quality companies paying huge, healthy dividends. In his most recent issue, Doc added another high-quality, high-yielding stock to the list...
This company is one of the biggest and best-known in its sector... You know the name... And you've certainly seen its trademark commercials on TV. I can't give away any details, but I can say it operates in one of Porter's favorite sectors.
This company has grown earnings 50% since 2008. But its shares are 33% below their peak price in mid-2008. The company trades for less than sales and less than two times free cash flow. And it pays a safe, 3% dividend. Since 2007, it's increased the dividend nearly 65%.
If you're serious about investing and discovering how to safely load a portfolio with lots of high-quality, dividend-paying stocks, you should be reading Retirement Millionaire. In addition to excellent investment recommendations, Doc – who is a board-eligible eye surgeon – also offers his readers loads of health tips and money-saving secrets. The education alone is worth more than the cost of the subscription (which you could recover with one year of dividends from his latest recommendation).
We want you to read
Retirement Millionaire
, so we're making an incredible offer... You can try this service for four months. And if you don't like it, we'll refund 100% of your money with no questions asked. To access Doc's
Retirement Millionaire
and learn which super-safe dividend-paying company he recommends for subscribers...
click here
. (You won't go to a long promotional video.)
Regards,
Sean Goldsmith