As we mentioned, China is the world's workshop... and a major driver of the global economy. An economic contraction in China would hammer stock and commodity markets. So if there's a big problem in China, there's a big problem for the global asset markets... and a big problem for your portfolio.
Last Monday, we noted severe weakness in the Shanghai Index as a possible warning sign for China. Today, we're issuing a similar warning...
Caterpillar (CAT) is the world's largest producer of heavy equipment... things like bulldozers, dump trucks, and excavators. Walk onto a construction or mining project, and chances are good you'll see a Caterpillar product. Thus, the company's fortunes rise and fall with the global economy.
If the world isn't booming, it's not digging, hauling, and building... and Caterpillar's profits and share price suffer.
Like most assets, Caterpillar has been booming since the 2009 market bottom. As you can see from the chart below, shares climbed from $30 to $115 in just three years. But recently, Caterpillar's uptrend has been smashed. In just the past few months, shares have plummeted from $108 to $82 (a 24% drop)...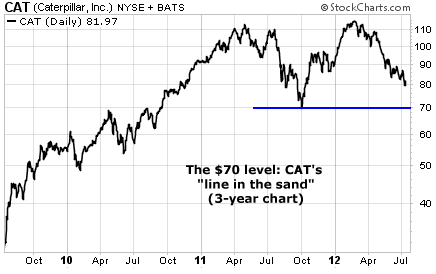 This fall is due to fears of a European depression... and an economic slowdown in China.
To stay in the game for a long time – and to win the game – speculators have to stay aware of risk. We have to focus on avoiding it. Only by focusing on risks can we set ourselves up for rewards.
That's why we devote half our mental energy to watching for risks like a major China slowdown... And it's why we're concerned about Caterpillar's recent plunge.
We don't know if things will get "bad" in China. We can't predict the future. But we can point to Caterpillar's 2011 low of $70 per share and call it a "line in the sand."
If Caterpillar breaches that level, it's a sign the world is experiencing an extreme slowdown... And it's time to "batten down" the hatches on your portfolio by holding plenty of cash... some gold... and only the world's safest and best businesses.
Good trading,
Amber Lee Mason and Brian Hunt