Jeff Clark was right on China...
About three weeks ago
, Jeff told
Growth Stock Wire
readers how the "Dow Industrials of China," the Shanghai Composite Index, was set for a substantial decline. Back then, the index sat just above the 2,300 level... not far from its multiyear low of 2,148. Jeff expected Chinese stocks to sell off hard... and breach its lows.
So far, they've done just that... The Shanghai Index has fallen to 2,175 since Jeff's essay. As you can see from the chart below, it's dangerously close to its multiyear low...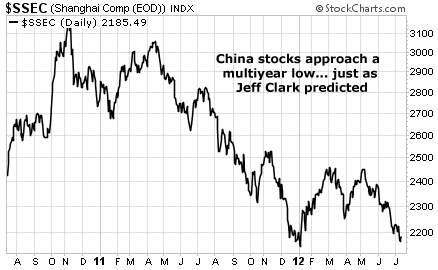 Jeff expects this index to go even lower... So traders can consider shorting Chinese stocks. But more important, Chinese stock prices are confirming the nation is experiencing at least a short-term economic slowdown... or even worse, the "hard landing" many people – like brilliant hedge-fund manager Jim Chanos – have predicted. In the "hard landing" scenario, commodity prices would get crushed. Stocks would suffer a big correction.
We can't predict the future... We can only stay prepared for potential risks. That's why we encourage readers to monitor "China sensitive" indexes and securities, like the Shanghai Composite – which tracks the movements of all stocks traded on the Shanghai Stock Exchange. Should this index suffer a substantial drop over the coming months, it's a bad sign for China... and a sign to stay very safe with your investment portfolio.
Speaking of safe investments... this year is becoming the year of "World Dominating Dividend Grower" stocks. While stock markets around the world struggle – and stocks in sectors like coal, steel, oil, and gold slide lower – Dan Ferris' World Dominating Dividend Growers (WDDGs) are steadily marching to new highs. Stocks like Coca-Cola, Wal-Mart, Johnson & Johnson, and Abbott Labs are among the market's best performers (and best dividend-payers).
... dividends are sizing up to be this year's "momentum trade." Over the past few years, we've stressed the importance of dividends and high-quality stocks dozens of times. In a world full of risk and fraud, getting paid steady and growing dividends is one of the market's best strategies. You can read a few of our best pieces on the idea here, here, and here.
This idea was heavily "stress tested" in 2011. The broad market went through huge swings... and was crushed during the summer panic. Some of the market's riskier companies fell 25%-50% in just a few months. But most of our favorite dividend payers – like Coke, Intel, and Wal-Mart – held up just fine. Read about this phenomenon right here.
Our guess is that, in 2012, more and more people recognize the safety and income-producing power of basic dividend payers. With interest rates low, the fashionable thing on Wall Street will be for fund managers to say, "I own blue-chip dividend payers." This will send a flood of new money into these stocks. Corporate managers will see the share prices of divided payers rise... so they will hike payouts. This will create a "momentum" trade in dividends.
As we expected, this "dividend momentum" has sent shares of Wal-Mart, Johnson & Johnson, Coca-Cola, and Abbott Labs soaring. The most impressive performance has come from Wal-Mart, which you can see below. (Congratulations to Dan for exhorting subscribers to buy Wal-Mart about 2,000 times...)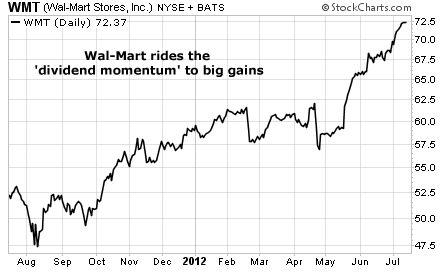 Given the "big picture" risks, like China and the European debt crisis, people are going wild for U.S. government bonds. This week, a sale of new bonds saw
10-year Treasury yields
fall to near-record lows, around 1.45%. Investors are plowing into Treasurys because they see the alternative – stocks – as too risky. On Wednesday, our own Dr. David "Doc" Eifrig told
Retirement Millionaire
readers that buying Treasurys now is a terrible decision, given the alternatives out there...
Doc begins his analysis of the situation by pointing out that since 2007, about $210 billion has flowed out of stocks. But more than $1.25 trillion has flowed into bonds. The chart below displays these giant flows of capital...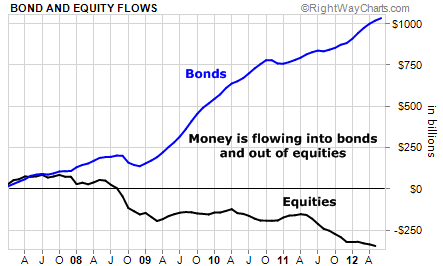 One of the best income investment analysts in the industry, Doc notes...
As they say on the trading floor, the trade is getting crowded. Of course, relative to your savings and inflation, getting any sort of yield is better than nothing. But that's why we recommend you own rich-yielding corporate and municipal bonds, not U.S. Treasurys.
So if you are invested in low-yielding U.S. government paper... please get out as soon as you can... There's no reason to accept less than 2% from the federal government, when successful companies and state and local governments will pay you 4%-8% for the same sorts of risks.
Right now, Doc's
Retirement Millionaire
portfolio is loaded with safe,
high-yielding investments
that should make up the core of every retirement portfolio. But much, much more important than any individual bond or stock recommendation, he provides his readers with constant "asset allocation" guidance. As many of our readers know, asset allocation – which is how an investor spreads his money across asset classes – is
100 times more important than any individual stock recommendation
. It's what professional investors focus on, rather than finding the "next hot stock."
We believe the "framework" Doc provides readers – of how to view their portfolios as a whole – is one of the great benefits of reading Retirement Millionaire. With a subscription to his newsletter (which costs less than many magazines), you regularly receive professional insight on how to structure a portfolio to handle any crash or boom the market throws at you. You'll learn the right way to build a fortress portfolio of elite, dividend-paying businesses... safe income-producing securities... closed-end funds... and precious metals.
As we've noted before, we have a tremendously difficult time convincing readers to purchase this sort of "common sense" research. Constructing a fortress portfolio of stocks, bonds, and alternative assets – which incurs few losses – just isn't as sexy as the next big gold stock or miracle-cure drug stock. It's basic human ignorance that causes people to flee from the best ideas.
But trust us... among our serious, educated readers, Retirement Millionaire is becoming a "cult" hit. We're extremely proud to publish it. We're proud that it received one of Porter's highest Report Card ratings out of all of our publications... And we're proud of how Doc has compiled one of the greatest track records in newsletter history.
We believe Doc's ideas are so powerful and valuable – worth a thousand times more than any single stock pick – we're making our subscription offer irresistible.
To encourage folks to try Retirement Millionaire... we invite you to take advantage of us. Take advantage of our 100% money-back offer for a subscription to Retirement Millionaire. Take advantage of this opportunity to access literally hundreds of dollars' worth of Doc's educational material on investing, trading, and health...
Read through Doc's work. Take four months if you'd like. If you don't find an incredible amount of investment insight that only decades of experience can provide... and if you don't think you can benefit from Doc's constant string of safe, high-returning investment recommendations, we'll refund 100% of your subscription. To learn how to start a trial subscription – and gain access to several new special reports Doc has just published –
click here
. (This does NOT link to a long promotional video.)
Regards,
Brian Hunt